The G&W Guide to… Trial Pits
25th April 2023
Geoenvironmental • Geotechnical
The final Site Investigation method available to any contaminated land or geotechnical engineer, is one of the most fundamental; a machine excavated trial hole. Also know as a trial pit, test pit or trial trench.
Trial pitting is where an engineer supervises the mechanical excavation (with digger, slew and bucket) of an open section trench to reveal the ground beneath a location.
The best thing about trial pits is you get a really good view of the sequence of layers underlying a site and can look at detail. Geotechnically you can look at the finer variations/detail, look for slip planes if assessing slope stability and also, it's the largest size of test excavation we do, so enables us to an get a full appreciation of gravels/sands and their size distribution.
From a contamination perspective trial pits give you a great sense of the overall make-up of Made Ground, allowing the fine detail of its make-up to be logged and assessed. This is an absolute fundamental when assessing what chemical testing needs to be undertaken.
You can get a good frequency distribution with the method, with circa 12 – 15 shallow pits – or up to 10 deeper pits – excavated in a day, depending on the logging and testing undertaken. You can also do soakage tests to BRE365 and plate load tests, amongst other things, in trial pits… But more about this in future guides.
Machine excavated trial holes disturb the excavated soil.  But it is possible get soil strength information from big intact blocks of excavated soil or from the sides of excavation (if shallow for health and safety reasons) using a shear vane penetrometer but only in cohesive soils.
Size & safety considerations
The excavated/disturbed area of a trial pit is generally about 2m long by 0.60 – 0.90m (depending on width of bucket used) if digging down to 1.5m plus. This does mean that you must ensure that the distance trial pits are excavated from buried services is greater than for much smaller diameter borehole.
Given the size of the opening, an open void to 2 – 3m is also a health and safety hazard and the trial pit needs careful supervision. The supervising engineer also needs to be well trained and competent.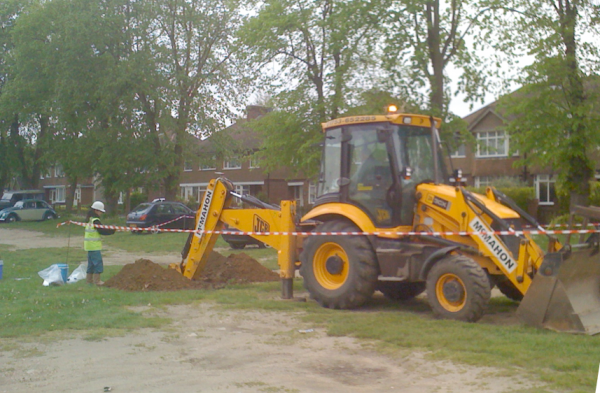 Trial pits excavated in granular soils are challenging if trying to get any soil strength information. You generally have to rely on asking the digger driver how hard it is to dig through, not the highest tech of tests to determine a good bearing capacity.
The size of machine used can also restrict dig depth, with a 1.5-tonne digger generally restricted to 1 – 2m, a 3-tonne to around 1.5 – 2m, so you need a 5 to 8-tonne machine to reach 3m plus.
Trial pits do have a weakness when there is shallow groundwater. In flow of groundwater into pits make the onward digging very difficult, with side collapses and lots of mess.
The only other thing you have to watch out for with trial pits is ground disturbance, as keeping disturbance to a minimum requires track mats, boards for storing spoil and a good digger driver who can backfill properly (to avoid settlement and a surface depression) and do it neatly.
Fact File
The following guidelines apply to 3 – 8-tonne tracked 360 diggers or a wheeled JCB with back hoe.
3t 360:
Width: 1.65m, Height: 2.47m
Working Area: 4m by 2m
Dig Depth: 2 – 3m bgl depending on soil type and presence of ground water
Can track down/up one or two steps on board.
8Tt 360 & JCB:
Width: 2.45m, Height: 2.83m.
Working Area: 6m by 4m.
Dig Depth: 2 – 4m bgl depending on soil type and presence of ground water.
Strength Testing:
Objective engineering judgement – Granular.
The Ground & Water Difference
Ground & Water ensures all its engineers receive comprehensive training prior to supervising trial pits on site. If coming through our graduate programme they will spend around six months working as a site technician under the supervision of a senior engineer, where they learn about the siting, health & safety and data recovery aspects of trial pitting. Our approach ensures we get the best data from the ground in a safe and minimally intrusive way.
At Ground & Water we like the bigger picture. Our regularly updated blog highlights and discusses the industry's challenges and issues. It provides you with insights into innovation, how we are constantly changing and adapting to provide you class leading, cost effective, services and how through investing in our team, we are delivering on our promises. And it's a great read!