The G&W Guide to… Trial Pit In-situ Testing
6th April 2023
Geotechnical
Quick, easy and repeatable tests that add data to your conceptual site model are a must. This is why any machine excavated trial pit in cohesive soils, must be accompanied by field data, such as the determination of soil consistency by Shear Vane or Hand Penetrometer tests.
Any company conducting Site Investigations,worth its salt, will be doing this where suitable materials are present. Read more about why we do Site Investigations HERE.
So what are these tests?
The Manual Test
It is vital that any Shear Vane, Hand Pen, Borehole Standard Penetration (SPT), or Dynamic Probe test is backed up by some manual engineering. It's a very simple test which can add great value.
A soil is to be identified as very soft if it exudes between the fingers when squeezed in the hand.
A soil is to be identified as soft if it can be moulded by light finger pressure.
 A soil is to be identified as firm if it cannot be moulded by the fingers, but rolled in the hand to thick threads without breaking or crumbling.
A soil is to be identified as stiff if it crumbles and breaks when rolled to thick threads but is still sufficiently moist to be moulded to a lump again.
A soil is to be identified as very stiff if it has dried out and is mostly light coloured. It can no longer be moulded but crumbles under pressure. It can be indented by a thumbnail.
The subdivisions above may be approximate, particularly in materials of low plasticity.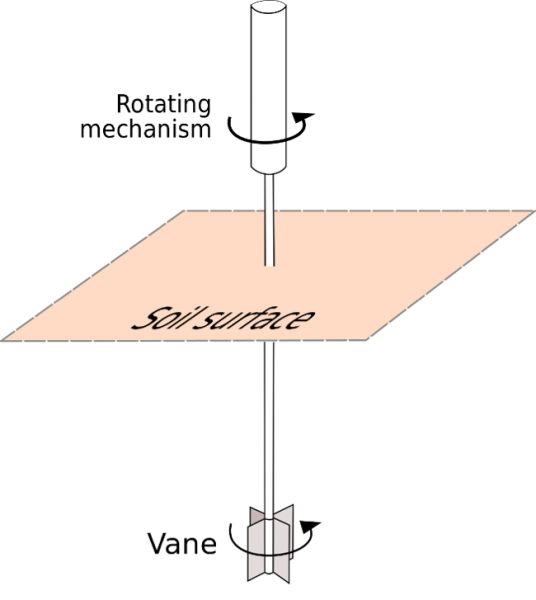 The Shear Vane Test
The Shear Vane test is a method of measuring the undrained shear strength of a cohesive soil.
The test is carried out with equipment consisting of a rod with vanes attached to it, which is inserted into the ground and rotated. A gauge on the top of the rod measures the torque required to cause failure of the soil and provides a conversion to shear strength.
The Hand Penetrometer Test
The Hand Penetrometer test utilises a loaded spring of known strength to determine the undrained strength of cohesive soils. The pen shaped instrument is applied perpendicular to the cohesive soil surface, causing the penetration of the soil by the instrument. As pressure is applied the pen moves a dial perpendicular to the soil marking numbers which determine the strength of the soil. The test is concluded once a standard mark on the penetrometer reaches the surface of the cohesive soil.
As with all Site Investigation tools, there are positives and negatives.
Plus points
Direct measurement of shear strength in cohesive soils. A bulk sample is required for a three-test average
A simple low cost, high frequency test.
Negatives
Can only really be done in-situ in top 1m of soil. Health & Safety prevents it being done in the trial pit
Subject to soils disturbance or compaction during sample recovery
Subject to minor variations in soil structure (sandy layers).
One point of note is that these tests are not suitable for intermediate soils (clay sands/sandy clays) or granular soils (sand/gravels). In reality with these type of soils, field tests are limited to asking the digger driver how hard they are finding the material to dig through (not particularly exact).
In this circumstance, bearing capacity/strength can only be based on engineering judgement. If loads on the proposed building are anticipated to be high, alternative forms of testing should be considered.
The Ground & Water Difference
Crucially Ground & Water Engineers are taught that these small additions to their Site Investigation tool kit are extremely important, and should never be overlooked. For example, we have experienced on numerous occasions where SPTs in clay soils have indicated a low bearing capacity; that these results were overturned by good engineering judgement backed up by on-site by Shear Vane or Hand Penetrometer tests.
At Ground & Water we like the bigger picture. Our regularly updated blog highlights and discusses the industry's challenges and issues. It provides you with insights into innovation, how we are constantly changing and adapting to provide you class leading, cost effective, services and how through investing in our team, we are delivering on our promises. And it's a great read!