The G&W Guide to… Site Investigation Theory
9th February 2023
Geoenvironmental • Geotechnical • Industry matters
Site Investigations prior to design of a construction project and its subsequent approval by planning authorities are generally accepted across the construction industry as required practice. But does everyone involved in their commissioning and use really understand why?
Why do we do Site Investigations?
The answer can be defined as: 'Development of a robust ground model and the associated management of identified ground hazards and geotechnical risks crucial to effective delivery of construction and civil engineering projects.'
The basis for any Eurocode 7 compliant investigation is the Level 1 Geological Model. This is the Conceptual model for the site, prior to any observational work. The levels/phases of Site Investigation then add to this model, deriving engineering parameters and materials properties and then provided characteristic and design values, taking into account the properties of the structure. See fig 1  below.
In other words:
Preliminary investigations – GENERAL
Design investigations – TARGET UNCERTAINTY
Control investigations – PROVDE CROSS-CHECK.
The two diagrams below provide a further way of explaining this. The idea is that any Site Investigation must clarify/test the initial Conceptual Site Model, providing clarity/more focus to that model so recommendations can be given. Learn more about Conceptual Site Models HERE
After every stage of investigation, the amount of knowledge available will increase, but the cost will have as well. The aim is to be in a situation where control is as high as practicable, the safety margins are as low as practicable and inputs into Structural/CIVIL design can be as detailed and informative as possible.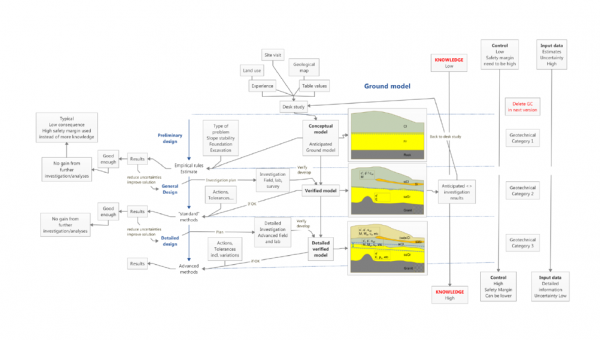 Based on the complexity of the proposed structure and ground conditions you may require more information on certain sites than others. More simplified modelling is plausible for simple structures.
This can be explained using the Geotechnical Design Category:
Geotechnical Category 1: Should only include small and relatively simple structures: for which it is possible to ensure that the fundamental requirements will be satisfied on the basis of experience and qualitative geotechnical investigations, with negligible risk
Geotechnical Category 2: Should include conventional types of structure and foundation with no exceptional risk or difficult soil or loading conditions. Designs for structures in Geotechnical Category 2 should normally include quantitative geotechnical data and analysis to ensure that the fundamental requirements are satisfied. Routine procedures for field and laboratory testing and for design and execution may be used for Geotechnical Category 2 designs
Geotechnical Category 3: Should include structures or parts of structures, which fall outside the limits of Geotechnical Categories 1 and 2. e.g. Very large or unusual structures • structures involving abnormal risks, or unusual or exceptionally difficult ground or loading conditions • structures in highly seismic areas • structures in areas of probable site instability or persistent ground movements that require separate investigation or special measures.
The key to a good ground consultancy is working with the engineers to understand the structure's risk points, how this is applied to the ground and at which point to jump off the knowledge (and cost) ladder (also where more knowledge will help a situation) and being able to explain this to interested parties.  Something at Ground & Water, we think we are really good at. Read some recent case studies HERE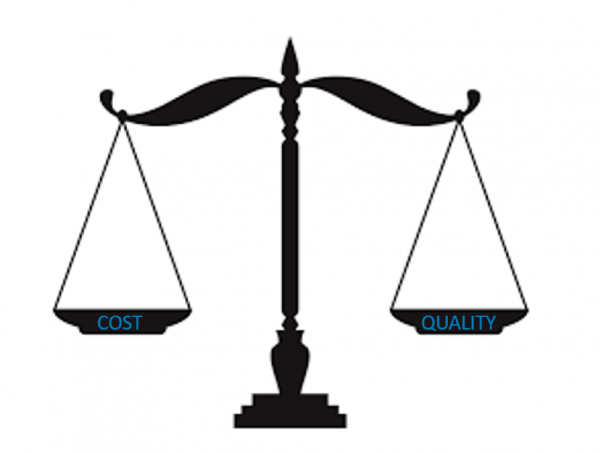 Overall a Site Investigation will always be a balance of COST vs QUALITY. To be discussed in due course in another blog.
'You can polish a turd' is an apt metaphor for a poor quality Site Investigation and then expecting to get great results for your site!
And finally, it is incredibly important for the engineer responsible for Site Investigation to make use of quality data, when they have it. At Ground & Water our engineers always collate the best quality data they can from every Site Investigation they undertake, to ensure they can produce quality reports and outcomes for our clients.
At Ground & Water we like the bigger picture. Our regularly updated blog highlights and discusses the industry's challenges and issues. It provides you with insights into innovation, how we are constantly changing and adapting to provide you class leading, cost effective, services and how through investing in our team, we are delivering on our promises. And it's a great read!