Ground & Water News Autumn 2021
3rd October 2021
Human resources • News
Welcome to your Autumn 2021 Ground & Water update. Read on for a round-up of our latest news.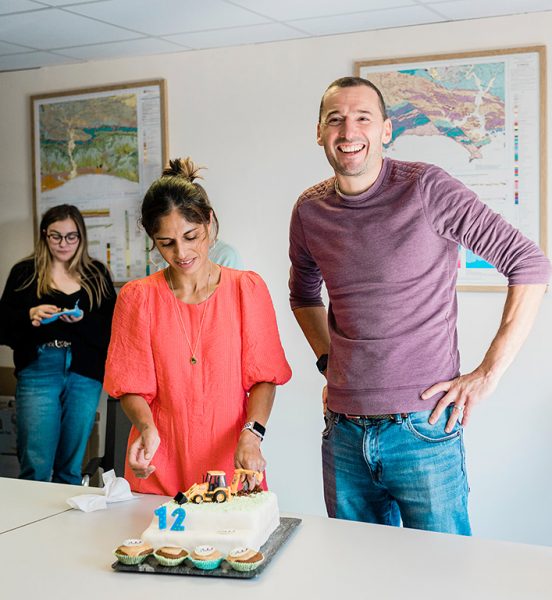 On Tuesday 28 September 2021 Ground & Water celebrated its 12th year in business. Since passing our 10-year milestone, the business has grown, fought on through the effects of a global pandemic and has matured and developed.
2021 will see eight new team members join us. Rob, Aidan and Jon now make up the Ground & Water Tech Team, Nathan joined our driller James, as a Drilling Technician and engineers Ryan and Erin, joined us in August. Alex joined us as our Sales & Marketing Coordinator last week and lastly, John will join us as a Health & Safety Coordinator in November.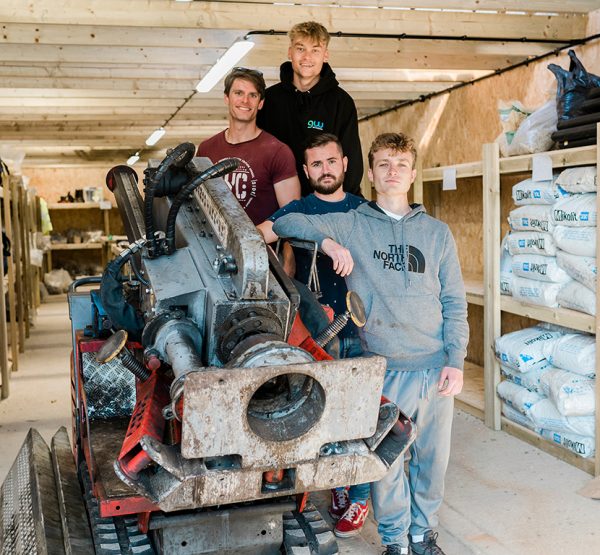 We now have an in-house drilling capability, fondly known as 'Rig Astley'; and we have also trebled the size of our soil sample logging barn. This is to make the area a more productive and pleasant environment to work in, with extended shelf space to store samples and more logging tables to improve efficiency.
We are really excited about these valuable additions to our team and capability enhancements, as they broaden our structure so we can outwardly deliver a better service to our clients and refine and improve our internal processes to support the business and facilitate future growth.
The Ground & Water Online Solutions Centre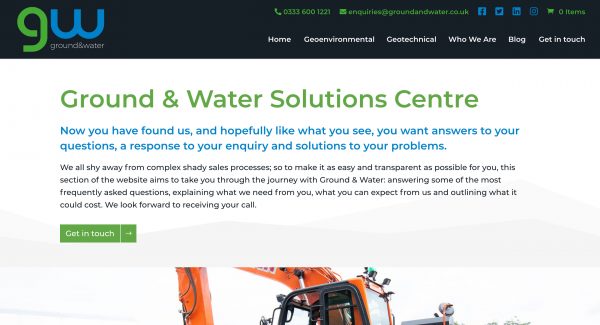 Getting away from the dreaded game of request a quote email tennis, Ground & Water's core services, are now transparently priced and available via a click of your mouse, in our new online Solutions Centre.
The re-branded Ground & Water website was launched in autumn 2020 and has developed from a shop window into an online sales counter, saving you time and effort. The Solutions Centre addresses most of the questions we are asked by clients and prospective clients about the services you need, the problems you have, the outcomes you desire, what we need to do to solve them and the level of information we need from you to achieve this.
Online Price Guide Calculator – We have added an online price guide calculator that provides you with pricing guidance, based on the square meterage of your site and it covers the most common types of development and site investigation scenarios.
Buy our Desktop reports online – Within the Solutions Hub you can purchase online, a Desktop Study of your proposed development site, or an Anticipated Ground Conditions Sheet for your development, which is a precursor to the Desktop Study and full Site Investigation. These highlight development risks, so you can focus on the bits which are of concern. You can also purchase a Full Geotechnical and Contaminated Land Risk Assessment and Risk Register report.
FAQs – We have answered a multitude of frequently asked questions openly and honestly, to save you time on the phone and to inform your buying decisions. Listed in 10 categories they cover questions ranging from preparatory work to aftercare.
Competitor Reviews – We are often asked: "With nearly 20 companies providing ground investigation and geoenvironmental services across the South, how do I choose one?" While we offer a comprehensive range of standard and specialist geotechnical, geoenvironmental, ground investigation and ground engineering design and consultancy services; we also understand it is important that you are aware of all your options. To help you with your decision making, we have listed five companies, who we consider are the best geotechnical, geoenvironmental and ground investigation specialists operating in our space. There are no hidden agendas here; we just want to be as open, honest and helpful to you as we can be.
We hope you find the new Solutions Centre useful. But if what you are looking for is not covered, please give us a call and we will provide details of how we can help.
Giving something back
 Doing our bit to give something back to our clients, the community and the environment.

The Ground & Water Working Sustainability Group – A group of Ground & Water team members now meet on a monthly basis to discuss how we can operate in a more environmentally friendly way. The working group looks at new initiatives we can adopt to lessen our impact on the planet, doing our bit to effect change in the industry and to explore new ways of working. We are currently looking at ways to green up our vehicle fleet, sort our waste so we recycle as much as possible, adopt reusable sample bags and cable ties to eradicate the huge amount of plastic we currently send to landfill; as well as developing our own bespoke reusable sample boxes.
Client CPD sessions – We have always placed a huge importance on Continued Professional Development (CPD), and we run weekly in-house sessions to increase our knowledge on a variety of topics. We now host CPD sessions for our clients and recently Croft Structural Engineers ran a session on structural engineering considerations of basement design, and we followed this with a session on soil investigation. These mutual learning sessions are a great way for us to add value to the work we do for our clients and they are also a great way to build working relationships with our strategic partners. If we can run a CPD session for your team, please get in touch. We will be more than happy to help.
Raising money for UNICEF – Ground & Water Director, Dipalee Jukes ran the London Marathon on 3 October to raise money for the United Nations' children's' charity UNICEF. Dipalee has been training incredibly hard and has really pushed herself to achieve the required stamina and fitness levels. It's been tough mentally and physically but Dipalee has been committed to the cause and for the much-needed funds she can raise, completing the 26.2 mile run in an admirable 4 hours and 48 minutes. We knew she would smash it, and she did just that!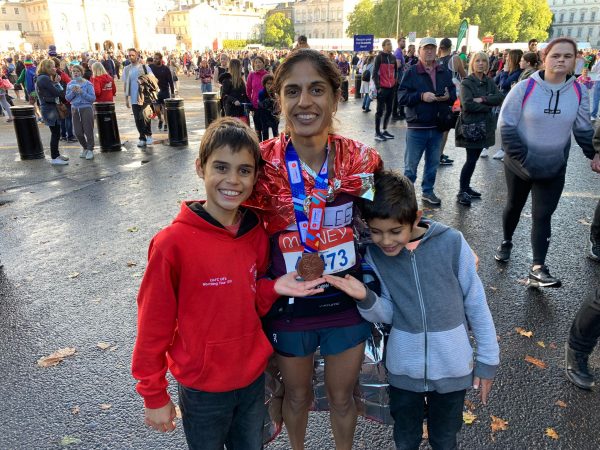 You can still support Dipalee's fundraising effort here: https://www.justgiving.com/fundraising/Dipalee-Jukes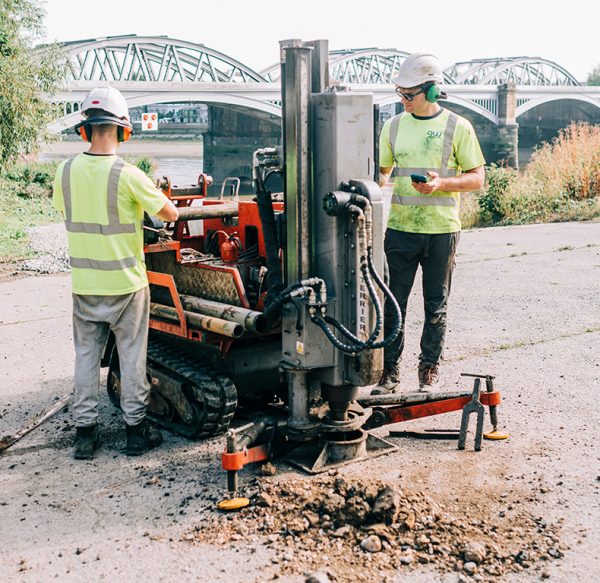 Our In-House Drilling Capability – Ground & Water's Dando Terrier drilling rig, fondly known by the team as 'Rig Astley', has been busy doing the rounds around London and the South East. Operator James and his second man, Nathan, are enjoying their new roles and all their time boring is anything but. Having the ability to fully undertake a project from start to finish is something we have always wanted to do. Being able to manage the entire process means we can really concentrate on providing a seamless and fully efficient service for you. This is just the start of our expansion and we look forward to making further announcement about capability developments in 2022.

One area of the Ground & Water website that sees high visitor numbers is the Blog. The list of topics discussed and explained, ranges from theoretical geology to general matters that effect all of us in business. Since our last newsletter in July the Blog has examined reducing the flash-flood risk, customer service best practice, the wonderful world of walls in basement development, sensible sustainability and why critical thinking is crucial. We post a new blog most weeks on a Wednesday. You can catch up on the latest topics HERE.
Letting our hair down!
Ground & Water has continued to adopt 'hybrid' working, with team members alternating between home-based working and spells in the office when necessary. Over the summer we have taken advantage of the relaxation of COVID restrictions to undertake some much-needed team bonding. 'The Focaccia Company' came to visit us again and the whole team was treated to some fabulous sandwiches and delicious sweets (they do the best brownies EVER!).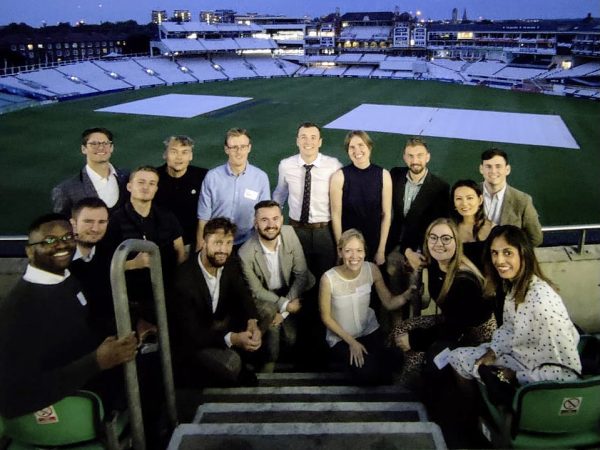 We also enjoyed a team evening at The Oval, attending the Engineers Australia and Engineering New Zealand Summer Soiree. It was a great evening, with delicious food, fantastic music and even better company. Thank you to Clinton McHenry from McHenry Structures for inviting us.
And Finally
Ground & Water's motto is: On-time, On-budget, Approved. As we start our thirteenth year providing a comprehensive range of standard and specialist geotechnical, geoenvironmental, ground investigation and ground engineering design and consultancy services to clients across London and the South East, we continually remind ourselves that the expansion and growth we have enjoyed are thanks to our brilliant team and our brilliant clients. We are living up to the motto and thank you all for making that possible.
At Ground & Water we like the bigger picture. Our regularly updated blog highlights and discusses the industry's challenges and issues. It provides you with insights into innovation, how we are constantly changing and adapting to provide you class leading, cost effective, services and how through investing in our team, we are delivering on our promises. And it's a great read!