The Tale of Two Ground-Gas Risk Assessments
2nd October 2020
Geoenvironmental
Great communication, efficient teamwork across two sites and sound, well thought out, ground-gas risk assessments successfully saved these clients considerable sums of money on developments where ground-gas issues at first looked problematic. The result… Two very happy clients.
Our Client
Residential developers based in the South.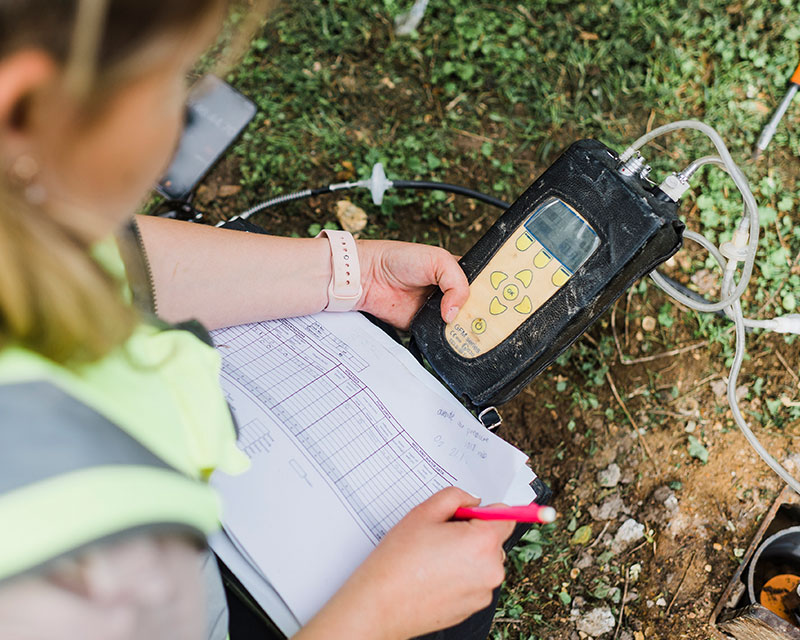 Our Challenge
Ground & Water was faced with two sites, 65 miles apart, with almost the polar opposite ground-gas issues.
A large former industrial site in Havant with some contamination issues, but limited ground-gas sources, had been categorised as Characteristic Situation CS2 (requiring passive gas protection) by another geoenvironmental consultancy, halting further work on the development.
Conversely a small development in West Drayton, with a genuine ground-gas risk associated with a landfill 90m to the south of the site, had already been started. The foundations and floor slabs had been poured and screeding was underway, when the lack of a ground-gas risk assessment led the council's Contaminated Land team to threaten to stop the work.
In both cases the clients were looking to Ground & Water's engineering team to solve their issues in the shortest time frame possible.
The Ground & Water Approach
Havant
Two methods of ground-gas risk assessment were applied to Havant, comprising ground-gas monitoring as well as analysis of soil samples. The historical review indicated that the site was largely unused until the mid-1960s when it became a factory, which operated until 2016.
The site report provided by a third party, recorded it contained Made Ground (<3.00m bgl) overlying Head Deposits of inter-bedded cohesive and granular soils. Original ground-gas monitoring suggested a Characteristic Situation CS2 across the entire site. This meant passive gas protection measures, such as expensive membranes, sub-flood voids and venting could have been required for all 100 of the proposed plots on the development.
A soil derived approach to ground-gas risk assessment identified soils with a Total Organic Compound (TOC) range of 0.1 – 0.8%, which was not considered to pose an unacceptable ground-gas risk at the site. The TOC range identified classified the site as Characteristic Situation CS1.
There was still evidence that some parts of the site fell into CS2 so it was decided to zone the site, based on the understanding of the geological model. Assessment indicated the site to have three geological zones; west, central and east, associated with the identification of a sand horizon.
Based on detailed risk assessment it was then possible to zone the requirement for protection to CS2 to only the western portion of the site (13 out of 100 plots), removing the requirement for ground-gas protection from the remainder of the site. This represented a considerable saving on the initial construction cost estimate.
West Drayton
At the West Drayton site we knew that our client was working to a tight deadline and was in touch with the Contaminated Land team at the council, in an attempt to agree a reasonable date for submission of a ground-gas risk assessment.
Given the client's deadline concerns, the full team of technicians at Ground & Water was committed to work on this project and allocated their time to ensure all ground-gas monitoring was completed in the allotted time. An interim risk assessment then allowed the client to proceed with construction as soon as the ground-gas readings were reviewed. A thorough risk assessment quickly followed and agreement with the council was reached to characterise the site as CS1. This meant no precautions against ground-gas were required.
The Outcome
Based on co-ordinated site works, ground-gas readings and thorough, up to date, ground-gas risk assessments, Ground & Water successfully saved these clients considerable sums of money on developments where ground-gas issues at first looked problematic. By establishing all bar 13% of one site could be classified as CS1, the work also prevented the unnecessary use of plastics and reduced waste. All this was achieved thanks to good communication, efficient work and good risk assessments. The result was two very happy clients.