Mortimers Lane, Eastleigh
15th February 2017
Geoenvironmental • Specialist Services
A one team approach that brought into play most of Ground & Water's 10 A ethos, results in a highly complex, difficulty-ridden project finally gaining planning approval.
Our Client
Based in Southern England, our client is a well-established diverse construction and development business. Clients include: registered providers, local authorities, health care organisations and private clients.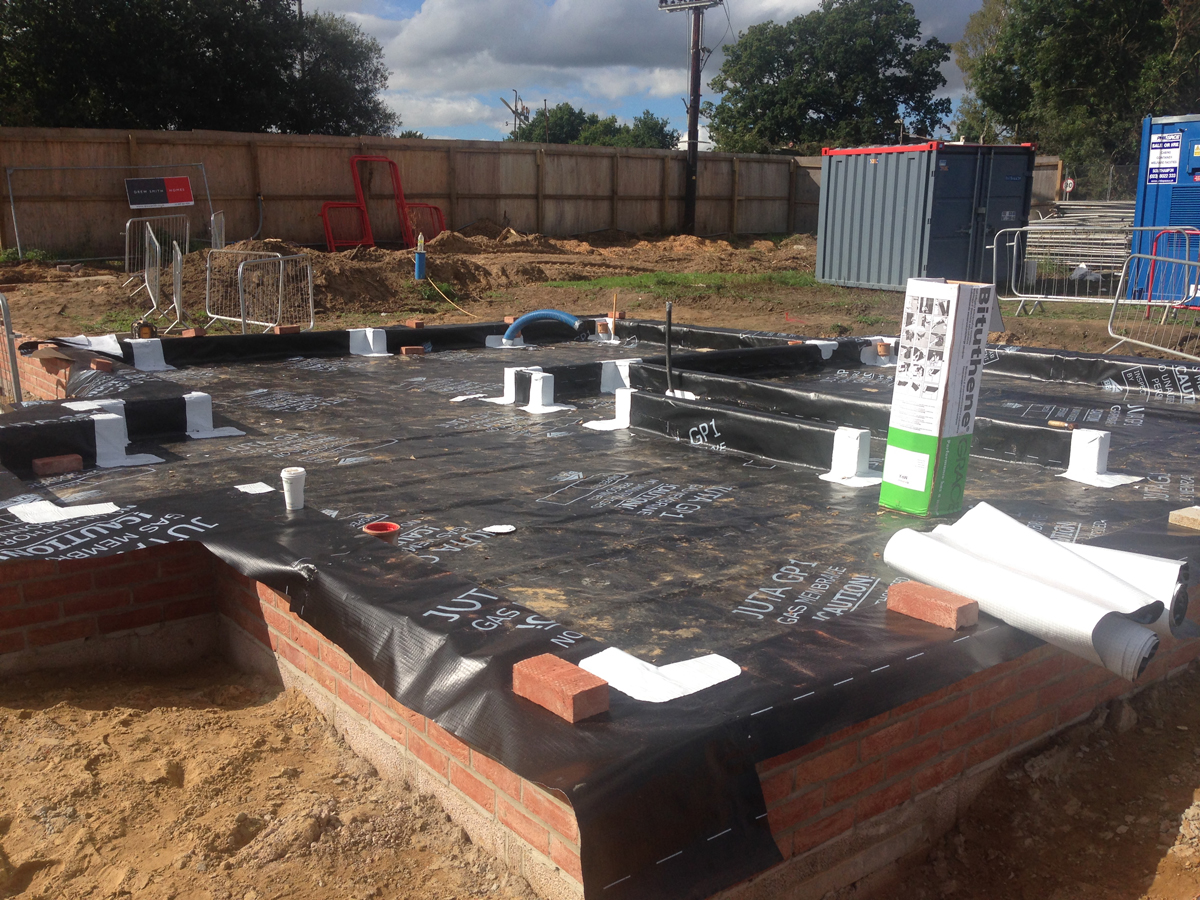 Preliminary-Assessment
The proposed development comprised the construction of 80 semi-detached two storey residential properties with access road and areas of domestic garden soft landscaping.
Our Challenge
Remediation strategy for a 2.65ha site located close to an actively gassing landfill.
The Ground & Water Approach
The initial site walkover was conducted in 2013. Ground investigations commenced in 2015. The comprehensive site desk study revealed an expanse of Made Ground extending from the south-western boundary of the site to over 250m south-west, and was understood to be associated with former sand and gravel extraction. It was formed from the filling of worked out gravel, sand and clays pits. It consisted building rubble mixed with domestic refuse, or of waste and overburden produced during the operation of the pit. The desk studies revealed an additional refuse tip 200m south of the site.
The landfill sites to the south-west and south of the site were gasing. Multiple boreholes were drilled to intercept migrating gas. A detailed review of previous reports, gas data from spot monitoring and continuous monitoring) showed elevated levels of both carbon dioxide and methane. Risks of other trace gases (Carbon Monoxide, Hydrogen Sulphide and VOC's) were highlighted. Migration of bio-gas was indicated to be present from the landfills to the south-west towards sensitive receptors to the north. Statistical assessment of the soils data in relation to Part 2A showed elevated levels of determinants within the domestic refuse present. High Ammonia concentrations were noted within both the domestic landfill and also the groundwater.
Given the increasing complexity and volumes of data for this medium sized development, Ground & Water liaised with and discussed the site with two independent consultants, before completing the complex risk assessment that then allowed formulation of the comprehensive report and remedial strategy. The remedial measures included a ventilated void, gas membrane, gas dilution trench and gas protection measures in all dwellings.
The Outcome
Following initial refusal for outline planning permission, outline permission for up to 78 dwellings was granted on appeal. Ground & Water director, Francis Williams says: "This was a very complex project. We believe the successful outcome was thanks, in part, to Ground & Water's holistic approach to the geoenvironmental challenges and thorough and professional risk assessment and resulting workable remedial solutions."