Hand-Made Solution Prevents Housing Development Delay
8th October 2019
Geoenvironmental • Specialist Services
A developer's Asbestos headache vanishes, thanks to diligence, training and an adventurous approach involving lots of elbow grease.
Our Client
Our client was a medium to large house building and land regeneration specialist, in the south of England.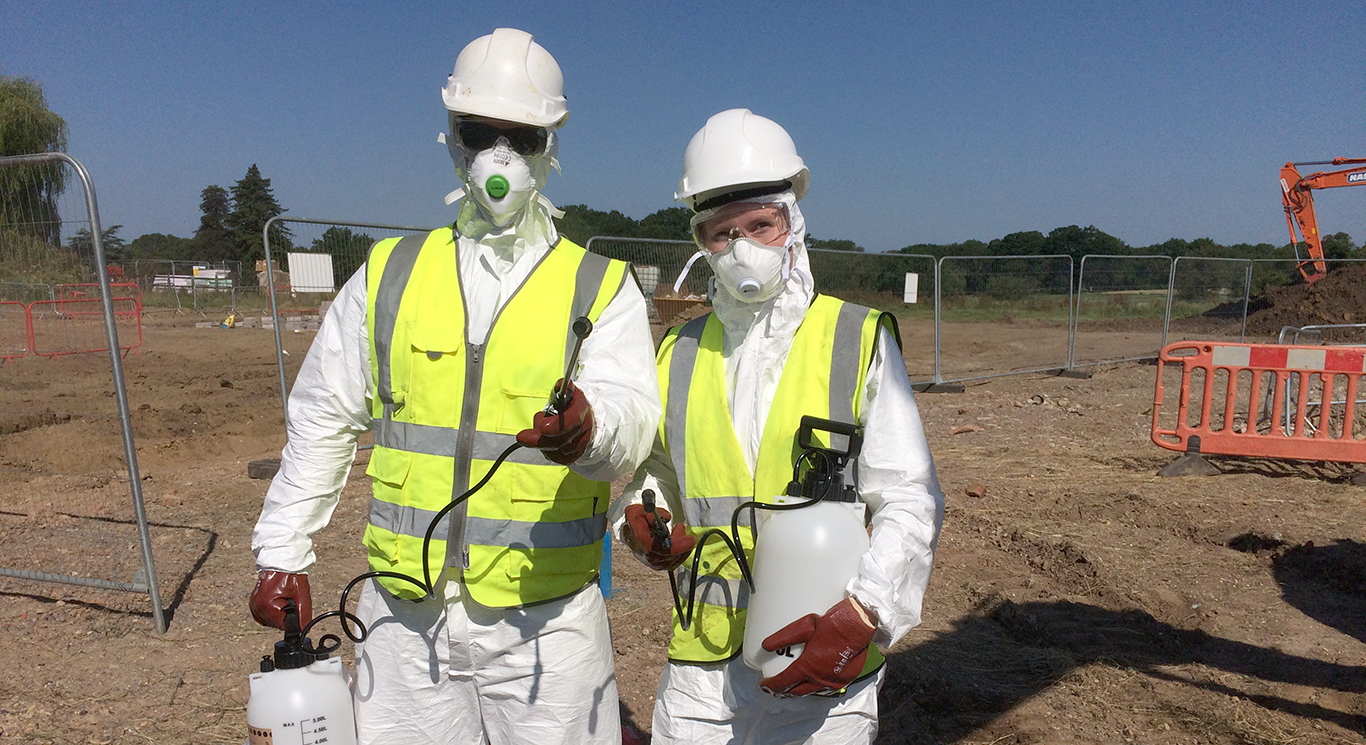 Preliminary-Assessment
The preliminary walkover of the affected area prior to commencing works, identified small quantities of cement-bound asbestos fragments at ground surface level. The client decided that rather than removing the affected soils, it wanted them to be remediated for re-use, on site.
Our Challenge
Asbestos! Having performed ground investigation and contamination assessment works on the site previously, Ground & Water was approached by its client after it had found cement-bound asbestos beneath the concrete slab of a former stable block, following its demolition. The 665 sq.m area had to be excavated to 0.30m bgl and the stockpile hand-picked to remove any asbestos fragments. Samples had to be tested to determine whether the site was safe for the development to proceed.
The Ground & Water Approach
This remediation was achieved by Ground & Water through the machine excavation and hand-picking of the soils, with the removed layer being stockpiled on an impermeable liner adjacent to the site area and further hand-picked for visible asbestos fragments. This was undertaken by Ground & Water Technicians, who in addition to wearing full PPE (Tyvek suits, face-fitted respirators, gloves, boots & eye protection) were also actively damping down the soils during the excavation.
The Outcome
The developer's potential asbestos nightmare was averted, thanks to a sound remediation plan and lots of elbow grease. Following the stockpiling and hand-picking of soils, visual inspection and representative sampling was taken from both the reduced formation level of the site area, the stockpiled material and the surface level immediately surrounding the site area to test for asbestos contamination. This revealed no visual evidence of asbestos contaminated materials and no laboratory results showing asbestos contamination across the formation level of the site area. Two positive identifications of asbestos were present within the stockpile samples tested, comprising bundles of Chrysotile present within SPF/0.10m bgl (at a quantification of 0.004%), and bundles of Chrysotile and Amosite within SPJ/0.10m bgl (at a quantification of 0.023%). These were risk assessed in accordance with CIRIA733, which revealed only one of these posed an unacceptable risk to end-users of site in a residential setting.
It was concluded that the site area where remediation had been undertaken was now safe for redevelopment and that although the stockpiled soils would require further remediation in order to be suitable for use within residential garden areas. In their present state they were suitable for use beneath areas of hard standing. This remediation and Ground & Water's subsequent recommendations has allowed the client to continue development of the site.