20th April 2021
Geoenvironmental • Geotechnical • Human resources
As part of Ground & Water's graduate scheme, Graduate Engineer, Emily Sillence spent her first six months at Hampshire's school for ground investigation wizards, as a Technician, mastering the 'dark arts' of site work. Her time served successfully on the tools, now it's onward and upwards for Emily, as she makes the transition into the role of Engineer.
Learning the ropes on site and carrying out my day-to-day duties that involved travelling from site to site, were aided by a trusty new van, which I fondly named Guinevere. My Technician role involved being outside and on the move around four days a week.
I became confident in using gas analysers and PID detectors, amongst other equipment. I was trusted to be the first Ground & Water representative a client was likely to meet face to face and I learned to think creatively on my feet. Solving problems during siteworks can be a challenge when, like an owl carrier from Harry Potter, you deliver messages from the project engineer, to a team of drillers, the landowner and the client and vice versa! But I feel strongly that the half year, I have spent on site, and away from a desk, has set me up very well for my transition to the role of Engineer. It was also a wonderful excuse to be outside during the first lockdown!
I am now one year into my career at Ground & Water, and I must say it has been refreshing to combine the theory learnt at university, with the practical skills I gained as a Technician. I've seen what it's like out there in the wilds of a construction site and how crucial that first stage of sitework is to a successful project. I have also seen how the daily technician responsibilities work as a cog in the Ground & Water machine. If before I didn't quite understand how we calculated infiltration rates from soakage data, or why it was important to measure flow rate within a monitoring well, I now feel I have gained an understanding of where this all fits into creating a geo-environmental and geotechnical picture of a site.
Since becoming an Engineer, I have brushed up on the geo-engineering basics and read up a lot on remediation techniques, learning from two of the best that Ground & Water has to offer (a big shout out to Alec and Tash!). Also, I now plan the siteworks that I used to supervise. When designing a Site Investigation, I try to think about what is possible onsite and what is required back at my desk: Are there any access problems to consider? What drilling rig is required to gather the necessary information for foundation design? Where should soil samples be targeted, bearing in mind the proposed development plan?
Another new consideration has been the financial side of a project – finding cost-effective solutions for clients, sending quotes for new works, creating a laboratory testing schedule within a particular budget. I have really enjoyed being involved in the project lifecycle from every angle.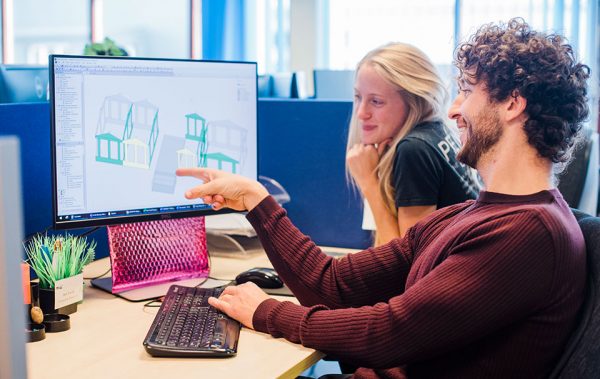 Overall, my first six months laid down a solid and invaluable foundation (pun not intended) for my transition to engineering. I now spend a little less time on the road or exposed to the elements and more time crunching data, writing reports, and considering costs. There are just as many learning opportunities and I still get my hands dirty, which I love. Now I am thoroughly looking forward to building on my experience as a geotechnical and environmental engineer, thanks to the amazing technical support provided by Ground & Water's engineering team and the can-do attitude of my colleagues and friends.
At Ground & Water we like the bigger picture. Our regularly updated blog highlights and discusses the industry's challenges and issues. It provides you with insights into innovation, how we are constantly changing and adapting to provide you class leading, cost effective, services and how through investing in our team, we are delivering on our promises. And it's a great read!