Why we need Flood Risk Assessments
2nd December 2020
Geoenvironmental • Regulation
"What is a Flood Risk Assessment, and do we really need it?" Darina Jurovskaja is a senior engineer at Ground & Water. She says there have been occasions when she has been asked this question. So to help fill any knowledge gaps and to erase any doubts surrounding flood risk, she sums up the answer in this week's blog post.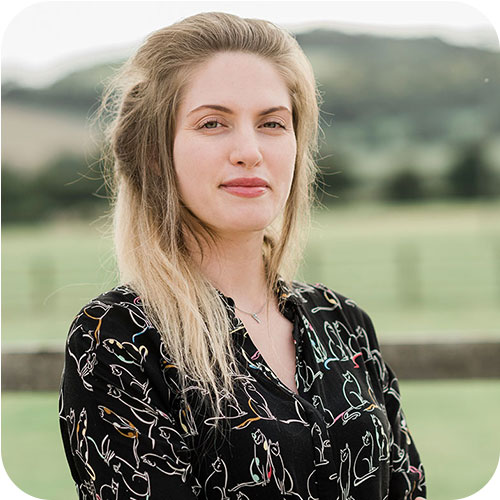 As you might remember, the summer of 2007 was not the sunniest on record! According to the Met Office, 414.1mm of rain fell across England and Wales in May, June and July, which was more than at any time since it began compiling rainfall figures in 1766.
Extreme rainfall in late June and late July caused flash flooding where it fell and then the water accumulated in rivers to extend the impact to the floodplain. As a result, over 55,000 homes and businesses were flooded. Some locations – notably on the River Severn between Tewkesbury and Gloucester, the Thames upstream of Oxford and much of South Yorkshire suffered record breaking flood levels. Many schools were closed, homes were flooded and abandoned, roads and railways were closed and drinking water supplies lost for over a week.
According to the Environment Agency, the total economic cost of the summer 2007 floods was estimated at around £3.2 billion. About £2.56 billion of insurance claims were made for damages to residential and commercial properties, rising to £2.92 billion when motor vehicle damage, temporary accommodation and business disruption was included.
It was estimated that each affected home needed about £20,000 – £30,000 worth of repairs. I hope that this insight into the aftermath of 2007 floods, shows how crucial a Flood Risk Assessment could be to your redevelopment.
There are a few possible cases when you are required to provide a Flood Risk Assessment. These include developments:
In flood zone 2 or 3 including minor development and change of use
More than 1 hectare (ha) in flood zone 1
Less than 1 ha in flood zone 1, including a change of use in development type to a more vulnerable class (for example from commercial to residential), where they could be affected by sources of flooding other than rivers and the sea (for example surface water drains, reservoirs)
In an area within flood zone 1 which has critical drainage problems as notified by the Environment Agency.
A quick search at https://flood-map-for-planning.service.gov.uk/ will help you to identify which flood zone your redevelopment site is located in. If you are uncertain about your requirements (e.g. critical drainage area records), you can contact your local planning authority to seek advice.
You don't need to do a Flood Risk Assessment for a development that's less than 1ha in flood zone 1; unless it could be affected by sources of flooding other than rivers and the sea, for example surface water drains.
Once you are sure of a requirement for a Flood Risk Assessment, the best way forward is to contact a qualified Geotechnical/Geoenvironmental Engineering Consultancy who will manage and carry out the assessment process, relieving you of the stress and worry. At Ground & Water, we have a team of qualified and experienced Geoenvironmental engineers, who will be able to help you. Flood Risk Assessments are one of our specialist Geoenvironmental services.
An in-depth flood risk assessment should identify:
If your proposed development is affected by current and future flooding events
Risk of flooding from groundwater, surface water, reservoirs and fluvial flooding
Requirement for Sequential and Exception Tests
Analysis of council-specific Strategic Flood Risk Assessment and Surface Water Management Plan, if applicable
Flood resilience measures to ensure the development will be safe for its lifetime for its end-users.
In addition to the above, to meet the requirements the Flood Risk Assessment might also need to include, a Tidal Breach Analysis as part of the product four package, obtained from the Environment Agency. The product four is a Detailed Flood Risk Assessment Map, which includes flood zones, defences and storage areas, areas benefiting from defences, statutory main river designations, historic flood event outlines and more detailed information from our computer river models. However, it may not always be available for every site. The most common areas requiring a Tidal Breach Analysis in the south-east, are the ones in the vicinity of the River Thames. The analysis provides data that considers any changes in water levels due to climate changes and in an event of breaching flood defences.
After identifying any possible risk associated with flooding from different sources, a Flood Risk Assessment should provide recommendations on how to avoid or protect buildings from flood damage. Considerations may include but not limited to:
Raised electrical sockets on basement and ground floor levels
Engineering bricks (Classes A and B) due to the good water penetration, during ability and retention of pre-flood dimensions
Concrete blocks used in foundations to be sealed with an impermeable material or encased in concrete to prevent water movement
Suitable floor finishes include ceramic or concrete-based floor tiles, stone and sand/cement screeds
The basement to be of waterproof construction to avoid seepage during flooding conditions
No sleeping accommodation within a lower ground floor or basement is to be considered.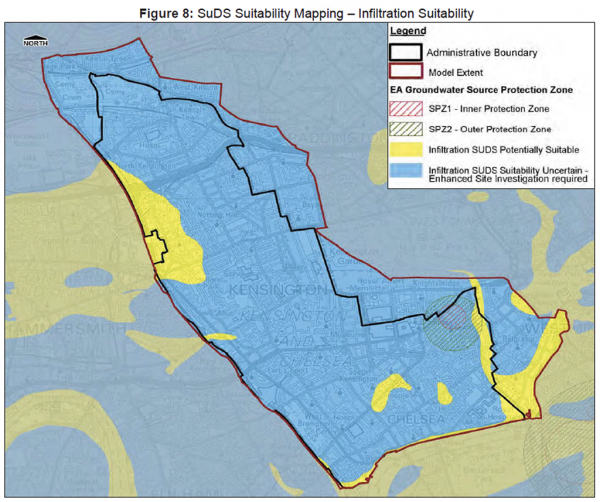 The majority of new developments are also encouraged to use Sustainable Urban Drainage Systems (SUDS) to manage surface water drainage. SUDS are drainage systems that are considered to be environmentally beneficial, causing minimal or no long-term detrimental damage, which may include: soakaways, swales, ponds, wetlands and basins, green roofs and filter drains with storage.
As long as all of the above is considered, your upcoming redevelopment should be suitably protected from any future flooding events.
P.S. A tip from Ground & Water: If you know your property is in an area, which might be affected by flooding, be sure to sign up for a free flood-warning scheme provided by the Environment Agency!
At Ground & Water we like the bigger picture. Our regularly updated blog highlights and discusses the industry's challenges and issues. It provides you with insights into innovation, how we are constantly changing and adapting to provide you class leading, cost effective, services and how through investing in our team, we are delivering on our promises. And it's a great read!