The South's Top Site Investigation Companies
3rd November 2021
Geoenvironmental • Geotechnical • Industry matters
Which are the top site investigation companies in Southern England?
Each year, Ground & Water speaks to well over a hundred builders, property developers, local authorities, architects and construction companies from London and Southern England about all aspects of site investigation. Our chats have two things in common. They have a thirst for knowledge concerning the problems and pitfalls of acquiring and developing land for building and they want us to answer all their questions, openly and honestly.
A common theme are the firms in our sector that compete for business in the region. We are nothing but blatantly honest with respect to competition and we want our customers to be as informed as possible.
So how do you know if a geotechnical and geoenvironmental engineering consultancy is worth approaching? 
They ask for, value and act on customer feedback and get good online reviews
They provide a list of all customers for references
They publish case studies about their own projects
They have clearly defined sales, planning, and execution processes
They are open and transparent about costs
They put results and quality above profit
They're honest about their past challenges and are happy to discuss them.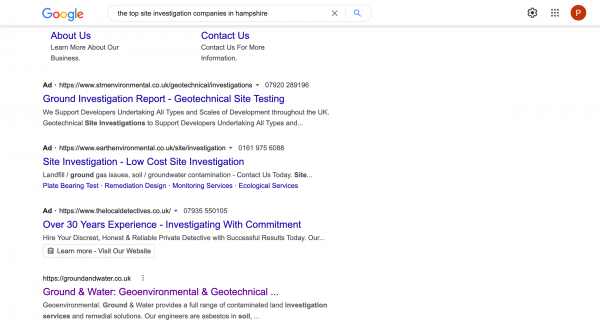 Finding the right provider
Finding the right company to provide you with a comprehensive range of standard and specialist geotechnical, geoenvironmental, ground investigation and ground engineering design and consultancy services, can be a lot of work. The reality is that there are over 20 providers to choose from across London and the South of England. And they don't all offer the same services.
So to make the start of your search for the best geotechnical, geoenvironmental, ground investigation and ground engineering design consultancy a little bit easier, we have listed five that we think are among the best geotechnical, geoenvironmental, ground investigation and ground engineering design consultancies operating in our space.
Southern Testing
Established in 1967, the East Grinstead-based Southern Testing is an independent geotechnical, geoenvironmental and ground investigation specialist, providing consultancy and contractor site investigation services. The company has won awards for geotechnical data management and remediation innovation and is ISO 9001, 14001 and 45001 certified. Core capabilities include: evaluation, design, construction, remediation and verification.
Website: https://www.southerntesting.co.uk/
Leap Environmental
Dorking-based Leap Environmental was founded in 2008. It has grown rapidly to become a leading geo-environmental and geotechnical consultancy serving the private and public sectors. It has won several awards for brownfield land remediation and site investigation and was named 'Best Environmental & Geotechnical Consultancy' at the 2017 Home Builder Awards. It is ISO 9001, 14001 and 45001 certified. Core capabilities include: site investigation, geotechnical design and geoenvironmental consultancy services.
Website: https://www.leapenvironmental.com/
Omnia Consulting
With offices in Portsmouth, Bournemouth and London, Omnia Consulting was established in 2013. Omnia provides multi-disciplinary consultancy services to the development, construction, infrastructure and transport sectors. Design, support and consultancy capabilities include: geotechnical, geoenvironmental, acoustics, air quality and ecology. Omnia is UKAS certified and ISO 9001, 14001 and 45001 registered.
Website: https://omnia-consulting.co.uk/
Jomas Associates
Uxbridge-based Jomas Associates was founded in 2009. The company undertakes site investigations, land contamination risk assessments, geotechnical engineering surveys, flood risk assessments, in addition to the provision of other related services. Jomas was listed in the top 10 construction suppliers to work with and has won best consultant to work with in addition to reaching the shortlist at a number of other construction industry awards. With numerous memberships and accreditations, it is ISO 9001 and 14001 certified.
Website: https://www.jomasassociates.com/
Soils Limited
Winchester-based, Soils Limited has been providing geotechnical and environmental consultancy services since 1982. The company is accredited by all the major industry bodies and has numerous health and safety and quality accreditations. Its services include: transport infrastructure investigations, geotechnical consultancy, contaminated land and groundwater assessments, site investigations, waste management, basement impact assessments, EMF and GPR utility tracing, topographic surveying and UAV photographic surveying.
Website: http://www.soilslimited.co.uk/
At Ground & Water we like the bigger picture. Our regularly updated blog highlights and discusses the industry's challenges and issues. It provides you with insights into innovation, how we are constantly changing and adapting to provide you class leading, cost effective, services and how through investing in our team, we are delivering on our promises. And it's a great read!