The G&W Guide to… WASTE CLASSIFICATION
8th December 2022
Geoenvironmental • Industry matters • Regulation
I was with my friend Steve and we had a lot of waste we needed to dispose of. He asked: "Where's the nearest landfill?" "Mate… There's land everywhere!" I replied.
Did you know Dr Bruce Banner disposes 95% of his waste in an environmentally friendly way? Yes, he's pretty green…
Joking aside… This is the first in a series of 'a guide to' blogs. The team at Ground & Water felt it would be useful to outline the principles of a few popular subjects, just to give you a bit of background and perhaps, enhance your understanding. If nothing else, they could help to give you a better understanding of why someone might be asking you to do something different to the norm.
We thought we would start with Waste Classification / Waste Management  
A waste is defined as any substance or object, which the holder discards or intends to discard, or is required to be discarded.
The definition is why once you have dug out soil, stockpiled it and then think about what to do with it, it becomes waste.
If you have determined before you dig it out, that you can re-use it; under the right circumstances, then it's not a waste. This is covered under the Definition of Waste Code of Practice (DoWCoP) and this will be the subject of next week's guide.
The whole system of waste classification and waste management is designed to try and promote recycling in a responsible manner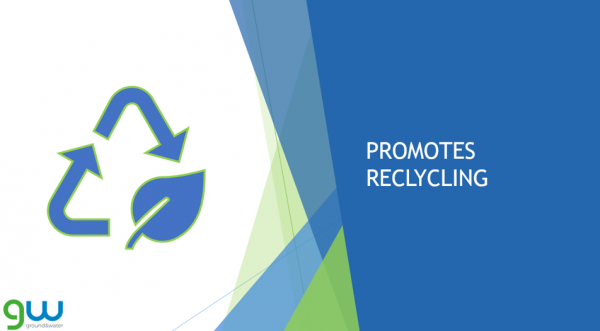 If you do have excess soil on a site, which cannot be re-used or is unsuitable for transfer to another site, or to a waste hub, then you must the follow what is outlined in the waste classification process.
You have a duty of care to classify the waste appropriately, and the system is a two-stage process:
Stage 1: Determine if the material is NON-HAZARDOUS or HAZARDOUS according to Environment Agency Guidance WM3.
The use of site investigation data to assess whether soil or Made Ground is likely to be classified as hazardous or non-hazardous following excavation is acceptable; as long as the applicability and representativeness of that data is clearly understood (for example there are likely to be physical and chemical changes during excavation and stockpiling).
The stages of a WM3 assessment are as follows:
Carry out a desk study to identify the hazardous substances which may be present
Develop a sampling strategy, taking into account:

The behavior and mobility of contaminants (fuel).
The history of development at the site.
The proposed development (to help identify soils that may become waste).
Carry out a site investigation and complete chemical analysis of waste soils.
Identify the appropriate hazard statement code in Technical Guidance WM3
Compare the total concentrations of the waste to hazardous thresholds.
Any exceedances means HAZARDOUS.
You don't need to worry about completing the stages above yourself because Ground & Water will do this as standard when compiling our reports.
On completion of stage one, the material is given a code. Either:
17-05-03* – Soil (including excavated soil from contaminated sites) and stones containing hazardous substance; or
17-05-04 – Soil (including excavated soil from contaminated sites) and stone other than those mentioned in 17-05-03.
There are a few technicalities in a WM3 assessment, but the key points are:
Have the compounds been correctly identified?
Has flammability been properly considered?
Is pH/Asbestos a problem and can further testing/remediation be done to assess risk?
Is any Tarmac old enough to be Coal Tar based?
Do you have enough data to statistically ignore a high result (see below) or to zone areas of non-haz or haz waste?
WAC Testing is only applicable where waste is destined for disposal to landfill
Whilst Individual licensed landfill operators may establish more stringent Waste Acceptance Criteria (WAC) tests if they wish, the Environment Agency still supports a single stage leaching process in the WAC test. Check with the landfill operator on their requirements. If in doubt use two stage testing.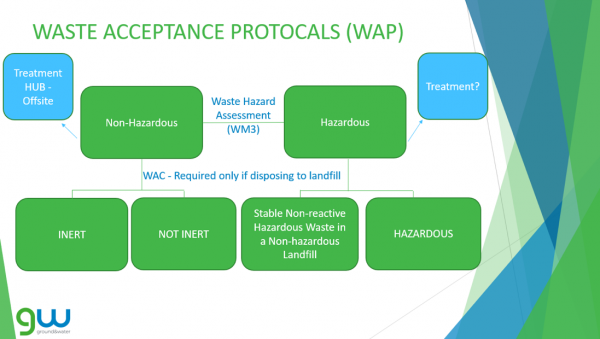 The key to WAC tests is that if WM3 defines your material as NON-HAZARDOUS, then you are only interested in whether your WAC test and leach rate define your material as INERT or NOT INERT (i.e. NON-HAZARDOUS or HAZARDOUS). In this regard only the INERT WAC thresholds apply.
Likewise, if WM3 defines your materials as HAZARDOUS, then you are only concerned about whether the WAC tests shows your materials as HAZARDOUS or STABLE NON-REACTIVE HAZARDOUS WASTE IN A NON-HAZADOUS LANDFILL.
You can't have NON-HAZADOUS waste in WM3 showing up as HAZARDOUS on the WAC test. Doesn't work like that.
A couple of additional points
The more samples you take for WAC tests the better.
Waste regulation allows for statistical variation. Should a contaminant of concern show as exceeding INERT waste thresholds, then it is possible to undertake more tests of that specific determinant (leachable Antimony/TOC/TPH or full WAC's…. Whatever you need) to determine if it passes.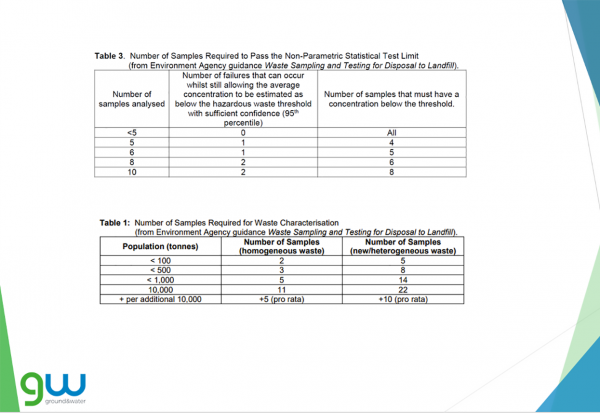 Can you classify soils/stones as INERT without testing?
Yes you can, in the following circumstances:
When the waste producer is confident about the quality of a soil at a greenfield site. This can be limited to visual assessment and written description with supporting evidence from a Desk Study
Natural soils where lines of evidence indicate they have not been impacted by contamination.
Please also note that any HAZARDOUS waste requires pre-treatment prior to removal from site. This could be something like segregation, through to treatment (in-situ to ex-situ).
So how does Ground & Water help clients with Waste Acceptance Protocols (WAP) Initial Waste Hazard Assessment (WM3) and WAC testing?
We conduct desk studies and site investigations and offer chemical testing services to classify the category of landfill for any waste soil you may have from foundation excavations, or any other sources of spoil on your developments. This can be undertaken as a standard part of a ground investigation, or separate to any other site investigation.
If you need help get in touch today!
At Ground & Water we like the bigger picture. Our regularly updated blog highlights and discusses the industry's challenges and issues. It provides you with insights into innovation, how we are constantly changing and adapting to provide you class leading, cost effective, services and how through investing in our team, we are delivering on our promises. And it's a great read!