26th July 2023
Geoenvironmental • Industry matters • Regulation
What is Radon? Radon is a natural, colourless, odourless, radioactive gas. It is formed by the radioactive decay of the small amounts of uranium that occur naturally in all rocks and soils (Granite in Cornwall & Clay with Flints/Chalk in Hampshire).
The gas can move through cracks and fissures in the subsoil and eventually to the atmosphere. Most of the radon will disperse into the air outside, but some will pass from the ground and collect in spaces under or within buildings.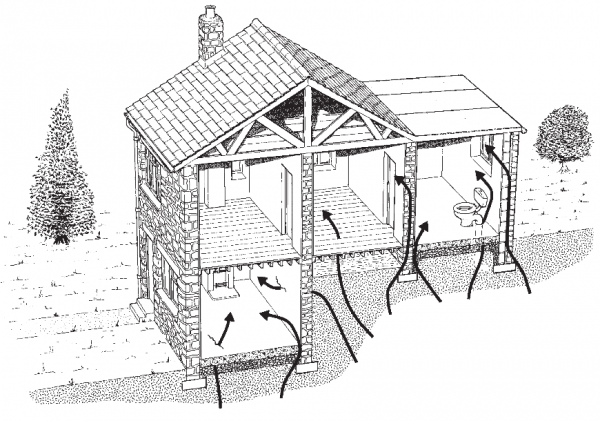 Key to ingress routes
Through cracks in solid floors
Through construction joints
Through cracks in walls below ground level
Through gaps in suspended floors
Through cracks in walls
Through gaps around service pipes
Through cavities in walls
For the average UK resident, radon accounts for half of the annual radiation dose received. Exposure to high levels of radon increases the risk of developing lung cancer.
Guidance
New maps on Radon risk were produced in December 2022, with new guidance on Radon risk assessments following in early 2023.
This guide replaces three earlier guidance documents:
BRE Report BR 211, Radon: guidance on protective measures for new buildings, introduced in 1991 and amended in 1992, 1999, 2007 and 2015, covering England and Wales
BRE Report BR 376, Radon: guidance on protective measures for new dwellings in Scotland, introduced in 1999
BRE Report BR 413, Radon: guidance on protective measures for new dwellings in Northern Ireland, introduced in 2001.
The principal changes over previous editions are:
Combined guidance for England, Wales, Scotland and Northern Ireland
Clearer explanatory guidance on specifying and installing radon-protective measures
Updated guidance to reflect recent amendments to building regulations and building standards
Additional radon management checklist
Improved references to inspection, on-site quality management and specifications
Appendix A replaced by links to ukradon.org
Appendix B replaced by Radon Protective Measures Quality Management Record.
Determining the Level of Protection
In most cases it is impractical to assess the severity of a radon problem on a particular site accurately until the building has been constructed and occupied. Protective measures should therefore be provided in areas with an identified high radon potential.
These areas are referenced in www.ukradon.org as 1 km grid squares. The maps are derived from the Indicative Atlas of Radon in England and Wales, Indicative Atlas of Radon in Scotland and Radon in Northern Ireland: Indicative Atlas. These indicate the highest radon potential within each 1 km grid square.
In many cases the radon potential varies considerably within a grid square. Sometimes, only a very small area with a radon potential exceeding the thresholds for basic or full protection occurs within the grid square but, as squares are coded according to the highest radon potential, the whole square has been shaded.
If a site falls within a shaded grid square on the maps on www.ukradon, that does not necessarily mean that it must have radon protection.
Please ask us if you require a site-specific report that gives the radon potential and the need for protection.
Radon Protection Examples:
You may need Basic or Full Protection, and like ground-gas design reports, you may need to tailor the anticipated floor construction slightly, to suite the risk. Ground & Water can provide this design information, you just need to ask. Examples of design can be seen below.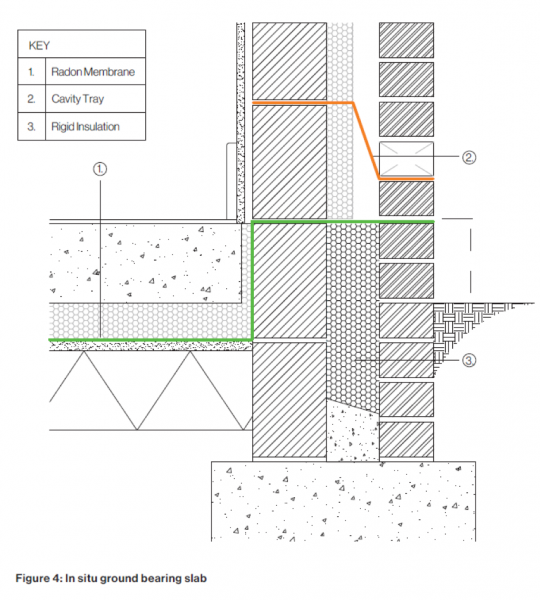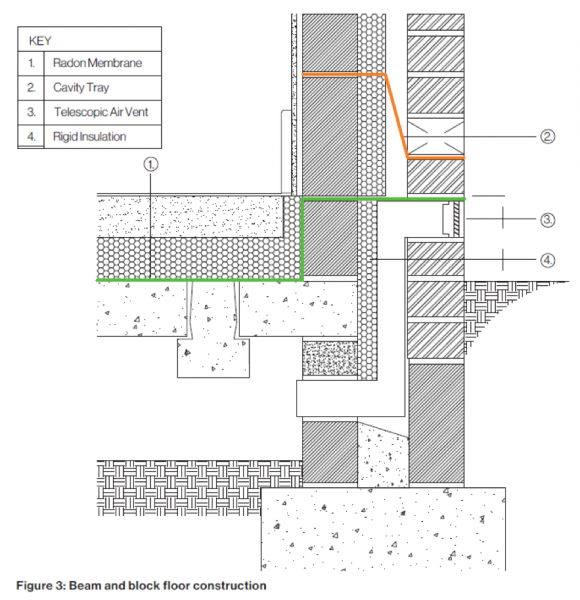 Further Radon Protection Examples: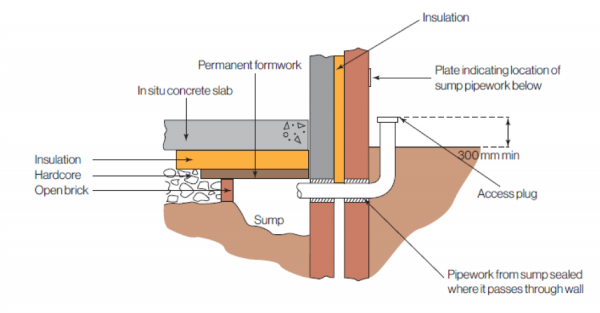 Installation Points to Note
High Water Table
Problem: In areas where it is known that the water table is particularly high, or the level fluctuates, there is a risk that radon sumps may become waterlogged and therefore ineffective
Solution: Utilise a Type A tanking membrane as per BS 8102:2022 Protection of Below Ground Structures Against Water Ingress which provides sufficient radon protection. There is then no need to provide a radon sump.
Slip or shear planes
Problem: The inclusion of membranes and cavity trays can adversely affect the structural integrity of load-bearing walls, if the cavity tray lies directly on top of a membrane, or vice versa, within any load-bearing wall, as this can create a slip or shear plane. The highest risk for slip planes are where both materials used have shiny surfaces, if the building may be subject to high lateral loading (I.e windy exposed locations) or where the wall acts as a retaining wall
Solution: Avoidance of slip planes in all construction is advised. As engineers we should be checking any plans that implement radon protection measures to ensure this isn't happening.
Protection of membrane
Problem: Membranes are easily punctured/damaged during the construction phase if steps are not taken to protect them.
Solution: Where a membrane is to be placed over fill or excavated ground, the surface should be blinded (I.e. its surface is finished with a fine material such as sand.) Care must be taken to ensure that the blinding material does not block up the voids in the fill, or the efficiency of the depressurisation system will be impaired. This is particularly important if the permeable fill is of limited thickness. Foam sheeting, geotextile matting or fleece could be used instead of blinding. One option is to locate the floor insulation between the ground and membrane. Where the radon-proof membrane would otherwise be left exposed within a ventilated space, it is advisable to cover it with a thin topping of 50 mm lean mix concrete or sand to reduce the risk of damage by subsequent trades.
Reinforced concrete slabs
Problem: Cracking of the slab if Made Ground or similar unstable soils settle which can in turn cause damage to membrane
Solution: Where an in situ concrete slab is laid with its edge supported on the inner leaf of an external wall, the slab must be reinforced to prevent cracking and potential damage to a radon membrane.
Garages
Problem: Garages can create pathways for Radon to get into living spaces if they are integral garages with occupied rooms above, or with direct access through a doorway from the garage to the house
Solution: These types of garages need the same radon protection as the rest of the dwelling. This also means that should the garage be converted to a living space it will still be protected.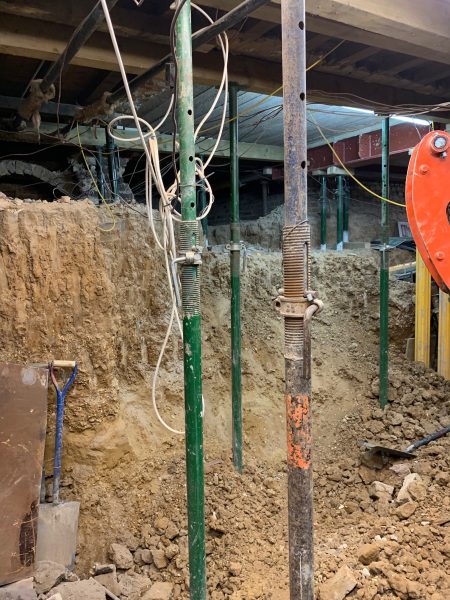 Radon and Basements
It is important to ensure that basements and other occupied spaces below ground level are suitably protected against radon. These areas are more at risk because walls are in contact with the ground as well as the floor. For a house with a basement under the entire house, the area in contact with the ground could be several times that of a similar house without a basement. This, coupled with reduced natural ventilation below ground level, increases the risk of elevated radon levels. All basements are at increased risk of elevated levels of radon, regardless of geographic location
Where a new basement is to be created, or an existing cellar converted, waterproofing will be required. A well-constructed waterproofing should be designed to protect against radon also. Guidance and recommendations on basement waterproofing are contained in BS 8102:2022 'Protection of Below Ground Structures Against Water Ingress'. This also advises that radon be taken into account in the design and implementation of waterproofing schemes
Below-ground waterproofing and radon management are specialist activities that can conflict. It is recommended that dual protection systems are designed and installed by specialists who are suitably qualified in both waterproofing and radon management. An example is Ground & Water working with waterproofing specialists.
Internally located cavity drain membrane systems are often used to provide below- ground waterproofing. Some cavity drain membrane systems are certificated as providing an effective membrane to radon gas. However, using these to line the internal surfaces of a basement could cause the gas to be simply displaced up the cavity into the ground floor accommodation
If the ground around a basement is likely to be waterlogged, there is little benefit in installing a radon sump as subfloor depressurisation is unlikely to work continuously. As with all radon-protective measures installed during construction, the first aim should be to provide a passive solution. This should also be the aim with a basement.
Conversions and Refurbishments
Radon protection should be considered when non-domestic structures such as barns, warehouses and offices are converted into residential accommodation or where existing buildings are undergoing significant refurbishment. It is important to note that these can be dealt with under permitted development applications which don't always have planning conditions (prior approval ones will do)
It may prove impractical to incorporate a radon membrane across the entire footprint of an existing building and, even if new concrete floors are installed, radon could still enter the property via floor- to-wall joints or through the existing walls. Nevertheless, there are some measures that are worth applying. For example:
If a new concrete ground floor is being installed, a membrane can be included within its construction together with one or more sumps. An attempt should be made to try to seal the membrane to the wall face in order to seal the gap between the floor slab and the wall. The seal can be made at floor skirting level
Similarly, if an existing floor is to be retained, it may be appropriate to install an externally excavated mini sump during construction.
NB: BRE recommends testing on completion or occupation of all new buildings, extensions and conversions with protection fitted. Buildings that have had significant alterations made to them should also be tested. However, Building Regulations do not require this.
At Ground & Water we like the bigger picture. Our regularly updated blog highlights and discusses the industry's challenges and issues. It provides you with insights into innovation, how we are constantly changing and adapting to provide you class leading, cost effective, services and how through investing in our team, we are delivering on our promises. And it's a great read!