The G&W Guide to… CPT and CPTu testing
3rd May 2023
Geoenvironmental • Geotechnical
Before we talk about CPT and CPTu (Cone Penetrometer) testing, you might be asking why has Ground & Water written several blogs explaining the different Site Investigation methods, associated equipments, their capabilities and Pro's and Con's?
The fact is there is no one size fits all solution and before commencing your Site Investigation we assess what information is required against what is proposed, evaluate which site investigation methods fit your site best and what methods and tests will prove the most cost-effective. We hope these guides will provide you with the information you need to be an equal partner in these conversations.
Cone Penetrometer Testing (CPT/CPTu)
CPT is not Dynamic Cone Penetrometer testing used for determining California Bearing Ratios (CBR), or a Cone Penetrometer Test version of an SPT; CPT is something else altogether…
A CPT involves pushing a cone vertically into the ground using hydraulic pressure. The rigs used for CPT come in a crawler or four or six wheeled version and usually they look a bit like a World War II army truck, but the kit inside is much more modern. There are smaller ones too…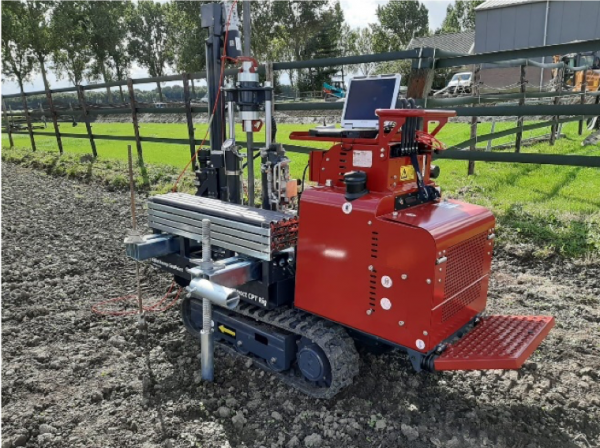 The CPT rig does not actually take any ground samples, but uses two parameters; namely cone resistance (qc) and sleeve friction (fs). While the CPTu measures three parameters, which are the qc, fs and the pore pressure (u).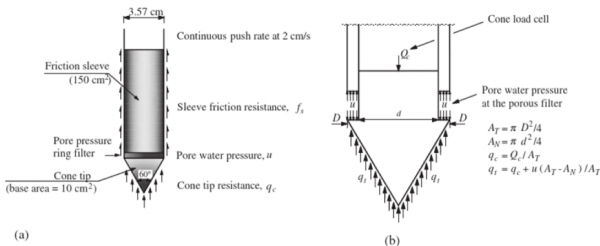 The rig then uses the ratio between the cone resistance in MegaPascals (MPa) and the friction ration (%) to provide a very accurate (the vast majority of the time) record of the ground through which it penetrates. 1 MPa equals 145lbs/in2.  See below.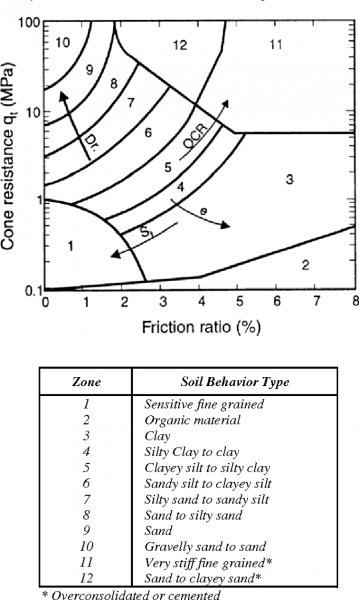 These are the basics. Tabulated correlations allow for classification of soils to include equivalent SPT N60, relative density, friction angle, normalised soil behaviour type index, fines content, undrained shear strength, sensitivity, unit weight and much more.
You can even include a magnetometer for detecting unexploded ordnance risks.
The good things
This piece of kit can do a lot of site investigation and therefore provide you with a lot of information about the ground conditions, in a short time frame. It can test around 120m2 a day, which is ace.
The things to look out for
It is at the pricier end of testing methods, but it does make up for that in quality of information and amount of data that can be recovered
As you do not get an actual sample of the ground, the question remains whether you need to undertaken some additional intrusive works to cross-reference?
Can quickly cut out when hitting dense gravels/sands, as its sensitive to the rig veering off 90o.
Ideal Uses
When you want to get a lot of SI information in a short period of time, like for Chalk Dissolution assessments or looking for small scale variations in material (soft spots/organic spots etc).
CPT can also be used to determine geoenvironmental factors and hydraulic behaviour of the ground and the properties of groundwater. You can read more about CPT HERE.
Ground & Water uses trusted specialist CPT contractors to undertake this method of Site Investigation. If you would like more information please give us a call today.
At Ground & Water we like the bigger picture. Our regularly updated blog highlights and discusses the industry's challenges and issues. It provides you with insights into innovation, how we are constantly changing and adapting to provide you class leading, cost effective, services and how through investing in our team, we are delivering on our promises. And it's a great read!