The G&W Guide to… Chalk Dissolution
6th September 2023
Geotechnical • Industry matters
In this blog we are going to re-visit the subject of Chalk Dissolution. It is a problem which can cause developers £MILLIONS!!
In reality dissolution may occur where any rocks are present that are susceptible to being dissolved by slightly acidic water (Chalk, Limestone and evaporite deposits (Gypsum)). Looking at the map showing the localities of these formations… Do you have a site anywhere in these areas?
Specifically talking about Chalk, there are a variety of problematic features that this dissolving can produce… a nice little diagram of these is below: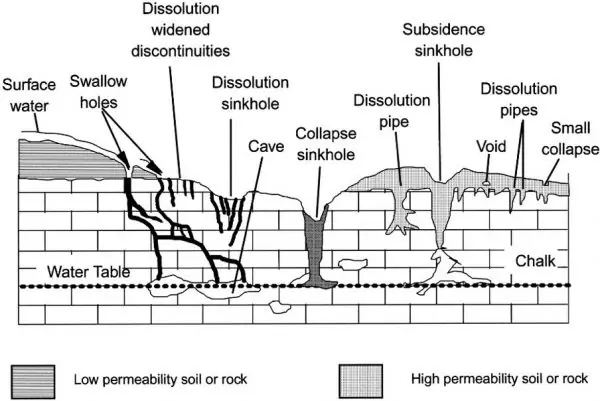 How do these features form?
Read on for a step by step guide. You can also find more information about Chalk Dissolution HERE
It may be a little controversial, but in Ground & Water's opinion there are active and passive features.
Passive features are historic/geological dissolution where active dissolution is not occurring. This could be described as the erosional contact between the Lambeth Group and Chalk sub-group below it, where it varies due to a similar process, but is not ongoing. The variation in the contact between the  Clay with Flints over Chalk is a similar case, but there are active dissolution features in this geology as well. This is where, due to hydrogeological changes, the dissolution has stopped, the infill has compacted over time/pressure and both chalk/infill are relatively competent.
The active features are where dissolution is actively ongoing, producing deeper soft fill voids and active dissolution can manifest itself significantly.. see below.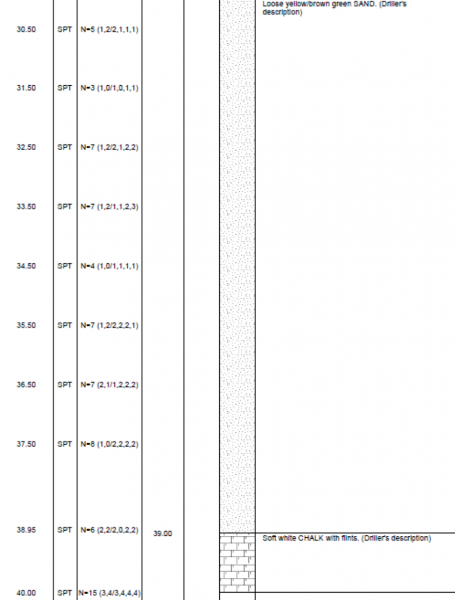 In other areas of the site Chalk was at 10m bgl, so the borehole log opposite shows very loose material (bearing in mind torque the actual strength of the material is likely to be even less than shown) to ~40m bgl, showing a very deep active feature.
It is these type of dissolution features that are the biggest threat to engineering.
So how do you overcome them?
This is where Ground & Water can help
The starting point and most important part of the process is a Desk Based Risk Assessment:
Types of lithology present
Weathering Characteristics
Hydrogeological Aspects
Broad Field Setting (Stratigraphic position, tectonics, geomorphology, extent over cover and underlying sediments, archaeology (mines/cavities).
This is achieved through a multiple line of evidence approach. The use of the simple and broad British Geological Survey (BGS) Soluble Rock Map only forms part the risk assessment, it cannot form it all.
So if a risk is determined, what can be done?
Assume there is a problem and mitigate for in design – Cantilever/Piles etc.
Investigate the issue – Cone Penetrometer testing or Super Heavy Dynamic Probes. (NOTE: You may never find all of the features)
Geophysics – The success of geophysical methods depends on many factors. Principally the size of the feature in relation to the depth of burial and the cover material. On a large site geophysics can certainly pin-point potentially issues to explore, but the method is NOT GUARANTEED.
How can Ground & Water help?
Ground & Water are Engineering in Chalk specialists. We understand the vital importance of a good initial risk assessment using BGS data, historic maps, Lidar, aerial views and the use of our in house risk assessment matrix.
Our experienced engineers are able to undertake competent Site Investigations to determine foundation and drainage design. All our site investigation reports are reviewed by a Chartered Geologist before submission and we are lucky to have a Chartered Geologist within the team who possesses an encyclopedic knowledge of Chalk.
At Ground & Water we like the bigger picture. Our regularly updated blog highlights and discusses the industry's challenges and issues. It provides you with insights into innovation, how we are constantly changing and adapting to provide you class leading, cost effective, services and how through investing in our team, we are delivering on our promises. And it's a great read!