The G&W Guide to… CFA boreholes and MPs
17th May 2023
Geotechnical • Industry matters
We will be honest with you: the use of Continuous Flight Auger boreholes and Mackintosh Probes in Site Investigation is one of Ground & Water's pet hates. You will see below that they have their purposes, but should not be used for Geotechnical Design other than possibly Design Category 1 (small/simple structures)!
So, what is a CFA borehole?
This is where a Continuous Flight Auger (CFA) of the piling variety, is used to progress a borehole for investigative purposes. See below.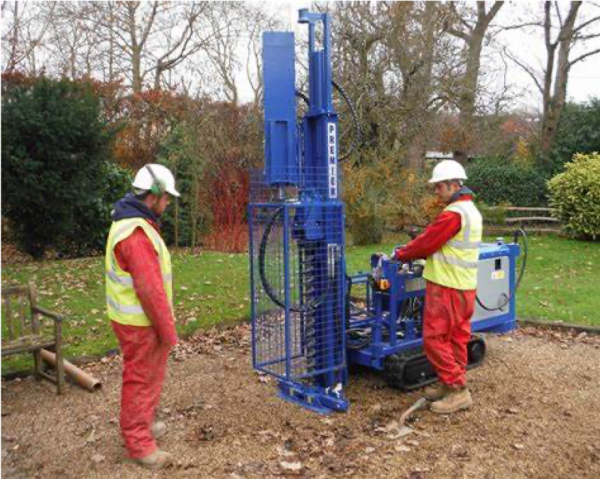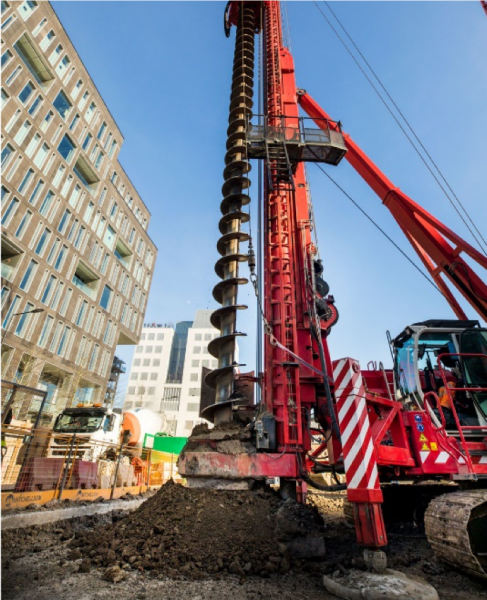 NOTE: CFA rigs are perfectly suitable for piling applications and well drilling, but here we are looking at geotechnical site investigation.
If we refer back to our guide on sample disturbance  then a CFA rig can only recover disturbed Class 5/E samples at best. Absolutely no use for our purposes.
We have seen a CFA borehole where 12.5m of Made Ground was indicated. When we investigated the same ground using Windowless Sampling  it proved natural at 2.5m. Unfortunately, for the developer, sample disturbance and loose Made Ground meant mis-identification of the ground conditions.
Pro's and Con's
Do they have a use for site investigation?
Yes, they are excellent for quick well installation in a variety of ground conditions.
Do they provide soils samples and determine ground conditions suitable for the design of a basement or residential property, or similar? NO, not in accordance with the guidance.
Are they cheap? Yes, but you will be paying higher construction costs later, for the conservative nature of the design.
What is a Mackintosh Probe?
CFA boreholes are often accompanied by in-situ tests called Mackintosh Probes (MP).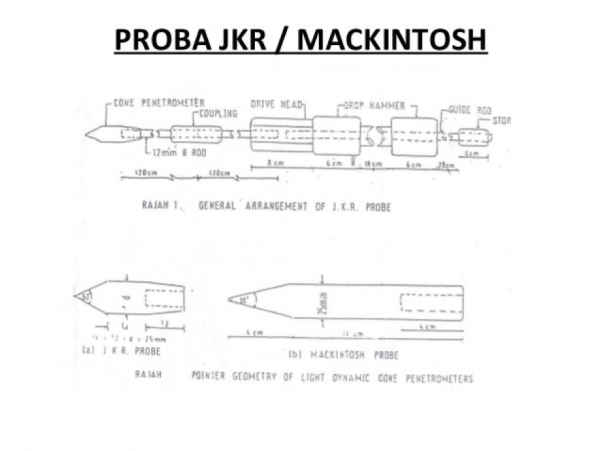 Do these tell you anything?
Well yes in a way, but sadly not for basements or when advising on geotechnical factors for residential house foundation/movement design.
The industry says…
"The application of Mackintosh Probes for soft deposits up to 10m in depth is appropriate and cost effective" – The Quarterly Journal of Engineering Geology and Hydrogeology.
"Due to their low energy hammer, the MP is not suitable for hard clays or soils containing gravel or cobbles" – Geotechnical Group.
Due to the recommendations laid out in Eurocode/British Standards, Ground & Water will not use CFA rigs or Mackintosh Probes in the geotechnical design of basements or residential houses.
The only time we will use MPs and CFAs is if soft deposits are anticipated – peat or similar – and when we just need a quick and easy water well for groundwater monitoring.
In all other scenarios, we strongly advise against the use of these methods for site investigation. The price you are quoted might look attractive, but in the end you will probably have to pay for a second site investigation. This will either be because better geotechnical data is required for the design, or thanks to conservatism in the design, based on inaccurate ground condition data, you will be facing an unacceptable increased in construction costs.
Please read our blog on Poor Site Investigation HERE  for more guidance on what not to do.
At Ground & Water we like the bigger picture. Our regularly updated blog highlights and discusses the industry's challenges and issues. It provides you with insights into innovation, how we are constantly changing and adapting to provide you class leading, cost effective, services and how through investing in our team, we are delivering on our promises. And it's a great read!