The G&W Guide to… Cable Percussion Drilling
28th February 2023
Geoenvironmental • Geotechnical • Industry matters
Cable Percussion Drilling Rigs (also known as Shell and Auger Rigs) are the Marmite of the Site Investigation world. People either love them or hate them. They mainly get a bad reputation based on health and safety grounds, because their mechanism involves lots wires under tension and bits of metal casing where fingers can get trapped.
However, the positive is that cable percussion drilling a very cost effective method of sampling/testing to a depth suitable for a pile design and the method is capable of recovering Class A samples in the right circumstances.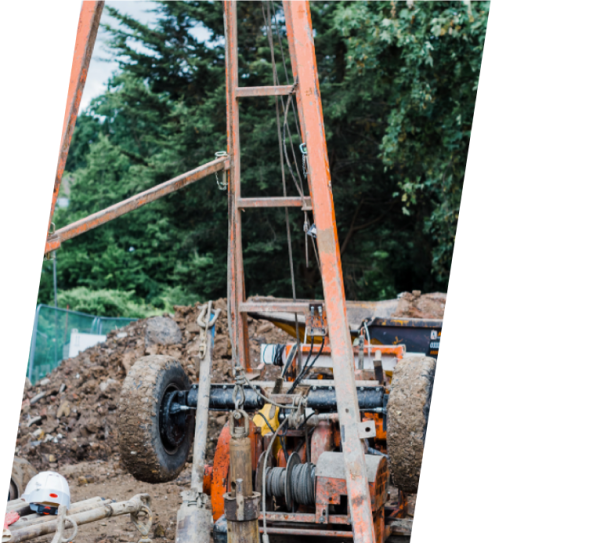 Standard specification
Working height/headroom: 6.65m
Towable Length: 7.5m
Towable Width: 1.81m
Working Area: 6m by 4m plus 4×4 towing vehicle and possibly trailer depending on the set up
Site Conditions: Needs a generally flat and level surface.
For sites with low-headroom or access limitations, a modular or demountable Cable Percussion rig can be used. This can either be a cut-down version of a standard towed tripod type or a modular rig which breaks down into smaller sections.
Capabilities
 The maximum depth achievable for a standard rig in favourable ground conditions such as gravel or clay is around 60m bgl. Depth can be restricted if the ground gets too dense or solid rock is hit. The other restriction on depth is if the job becomes too expensive**.
**The deeper you go, and where sand/gravels or groundwater is hit, larger widths of casing are generally required to prevent the borehole from collapsing. Wide casing can require a 3-ton capacity winch and going back to the principle of the ground effects of suction and friction on the casing and the drilling tooling, the deeper you go, the wider you must start the hole. This all adds cost.
The rigs usually travel with a sufficient 1.5m casings, to get you to 15m bgl, sometimes 20m bgl.
You can combine the sampling works with Standard Penetration Tests (SPT's) and Shear Vane Tests.
Read about historic Health & Safety concerns surrounding Cable Percussion rigs HERE
A MASSIVE POINT TO NOTE
Historically, it was possible to obtain relatively undisturbed samples (Class A) via plastic lined U100s. These could be sent off to the lab for strength testing or consolidation tests, etc. However, Eurocode 7 put a little spanner in the works by saying this type of plastic lined sample was actually a Class B, which is unsuitable for such tests. Or if such tests are carried out, expect some sample disturbance to affect the results.
The solution is to allow for an aluminum liner, creating a UT100, which is Class A (in certain circumstances). The tests are £70 more per sample, so it is important to be aware whether this is included or not and whether the sampling is Eurocode compliant or not. There is the possibility of accepting some sample disturbance and resulting lower values, if this is something you want to consider.
VALUE, HONESTY AND COST
Drilling is usually charged on a meterage basis, and therefore the more the crew can get done in a day, the more profitable it is for them. This has led to some more unscrupulous drilling contractors double sampling. I.e. making adaptations for SPTs, hammers etc. and other short-cuts to earn more money. Cases where this has happened have brought into question the results of the strength tests provided and even whether the soils were cohesive or granular. This has led to a requirement for the construction of boreholes to be supervised, although we would question whether every geotechnical engineer has the experience to spot a faked SPT from a real one.
However, we would expect a properly set up, sampled and tested cable percussion borehole to achieve between 12  – 17m bgl in one day. So if your contractor claims to have drilled a 20m borehole in a morning, suspect that they may have been rushing it a tad and may have taken some shortcuts.
Based on transport costs, plus a day's work, a Cable Percussion Rig typically comes in at a cheap and cheerful £100 – £120 per metre.
The Ground & Water Approach
Knowing the pitfalls, technical requirements and processes involved with Cable Percussion Drilling means that Ground & Water only uses a select number of trusted drilling contractors. This keeps any risk to a minimum and we always have an experienced engineer available to supervise sampling and testing when or where we feel it is necessary. This means our engineers can ensure the data we gather from Cable Percussion boreholes is the very best it can be.
At Ground & Water we like the bigger picture. Our regularly updated blog highlights and discusses the industry's challenges and issues. It provides you with insights into innovation, how we are constantly changing and adapting to provide you class leading, cost effective, services and how through investing in our team, we are delivering on our promises. And it's a great read!