That was the year that was
Despite the underlying challenges we all continue to face, 2021 has been a year of change, improvement and growth for Ground & Water. It's hard to believe we are coming towards the end of it.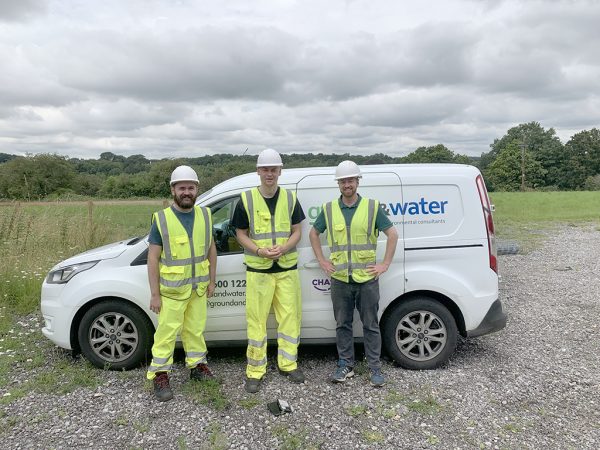 Hellos
This year saw us add eight new members to the Ground & Water team. Firstly we built our very first dedicated Technician team, comprising Rob, Aidan, and Jon. They have helped us out of more than one hole since they have been with us. We added a Sales & Marketing Coordinator and a Health & Safety Coordinator and two further engineers in Ryan and Erin. All this investment is to help support our future growth and ensure we are in the best possible position to take on and deliver the sort of projects we could only dream about a couple of years ago. The purchase of our own drilling rig: the good ship 'Rig Astley'  with James and Nathan at the helm, forms part of this expansion in service provision.
Farewells
Sadly we also said goodbye to two team members. Chris sailed off into the sunset (quite literally) and Emily left for pastures new. When team members leave us, it is always a wrench, but we are always pleased to have played a part in their development and growth, preparing them for their next adventure. We  hope their time with Ground & Water has been both enjoyable and valuable and we wish both Chris and Emily the very best of luck for the future.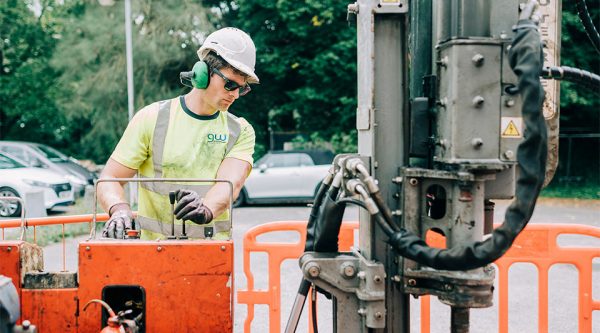 Treading the boards
A huge shout out, has to go to our driller extraordinaire. James been starring in a leading role in a professional pantomime. We encourage our team members to chase their dreams and fulfill their potential at every turn and love to see our team taking part in outside pursuits that fuel a passion. James isn't the only team member to tread the boards and we were lucky enough to see both James and Jon, one of our awesome Technicians, star in a performance of The Drowsy Chaperone. It was absolutely brilliant and we can't wait to watch our budding thespians on stage again in 2022!
CPD
As regular followers of this blog will know, everyone at Ground & Water is a big fan of personal and professional development. In an ever-changing industry, CPD has never been more important to keep skills up to date and to continue to challenge yourself and push to learn more. In order to both develop ourselves and gain a better understanding of how we can support clients in achieving what they need, we have been hosting CPD sessions for our clients. Some of these have been mutual improvement training and networking events. We run a session about our skills and clients provide training around what they need. This ultimately benefits everyone involved and we have found the sessions to be both informative and a great way to get to know our clients better. If you would like us to host a CPD session for you, then please get in touch either through our website chat service or via email at [email protected] You may want to revisit our blog on the importance of continual development, training and skills building https://www.groundandwater.co.uk/blogs/cpd-or-training-whats-the-difference/
Lightening the load
To celebrate Christmas, the Ground & Water team got together for a fun night of murder mystery with the help of the team at Events Racoon https://www.theeventsraccoon.co.uk/ We highly recommend Beckie and her team, if you want a great event organised. It was fantastic for us to get together in person once again.  We have a great team that really enjoys each other's company. As wonderful as Zoom is (and it is), you cannot beat an in-person night out! Seems we were having a little too much fun as more than one team member missed the train home…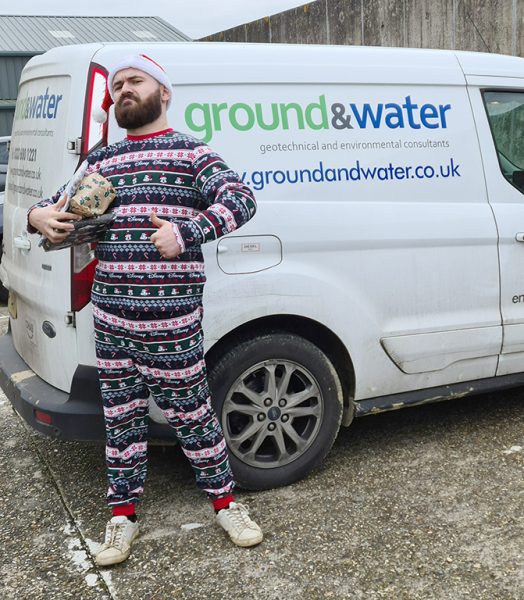 Due to the rapidly changing situation concerning Coronavirus, we decided to cancel the Ground & Water office festive lunch. This is usually an opportunity for us to all get together and enjoy some great food. The lunch could be described as 'corporate Tapas'. Each team member cooks (or contributes for those who are seriously culinarily challenged) a dish for the team to share. This is historically when we do our Secret Santa too. So we didn't miss out completely, Jon Chalkley kindly offered to don his best Elf attire and deliver all gifts in a safe and controlled manner to our team members. Not all heroes wear capes… Some wear festive PJs and a Santa hat!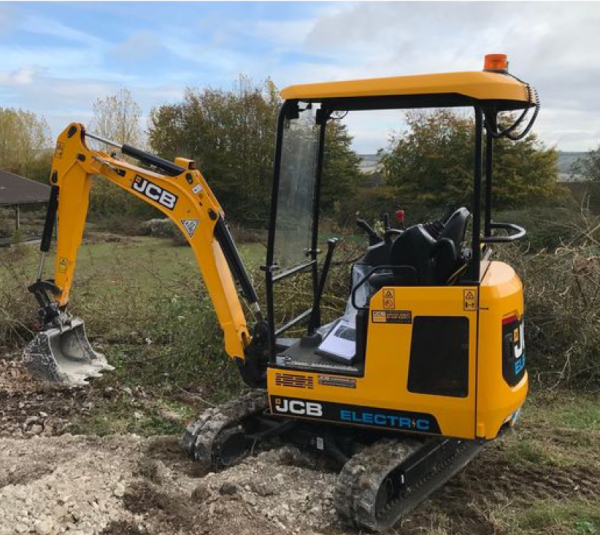 New Year… Renewed effort
Looking forward to 2022, we are excited it will be The Geological Society's Year of Sustainability. Thanks to COP26, the topic is rightly at the forefront of public consciousness. As we have outlined in recent blog posts, Ground & Water aims to be part of a movement towards a more environmentally conscious future for our industry. Having already started using electric plant and machinery in 2021, we are determined that is just the beginning as we continuously evaluate and optimise our day to day operations to reduce our impact on the planet.
And finally
Ground & Water would, as always, like to take the opportunity to thank all our clients, subcontractors and our team members, who collectively helped us through a challenging year. Let's hope 2022 brings some much-needed respite and we see an improving situation both domestically and for the global community.
At Ground & Water we like the bigger picture. Our regularly updated blog highlights and discusses the industry's challenges and issues. It provides you with insights into innovation, how we are constantly changing and adapting to provide you class leading, cost effective, services and how through investing in our team, we are delivering on our promises. And it's a great read!