Rite of passage – Technician to Engineer
6th July 2021
Geoenvironmental • Geotechnical • Human resources
Graduate Engineers begin their careers at Ground & Water, with a spell as a Site Technician. After 10 months in this role, Anna Smaje has swapped her van for a desk and is embarking on the transition to a fully-fledged Engineer.
As a Technician you are the main point of contact during site investigation works. Often covering multiple sites on the same day, you literally find yourself here, there, and everywhere. I found this variety extremely exciting and it allowed me to see and learn so much. You are exposed to many different challenges and aspects of ground investigation. This is definitely the best way to discover how the world of geotechnical and geoenvironmental engineering works and the experience of hands-on problem solving, through the use of my own initiative; allowed me to build confidence in my newfound profession. Always on the go, I was learning something new every single day.
The first most noticeable difference between being a Technician and an Engineer is the location. Last time I wrote a blog for this website, I was in the middle of London sitting in my van, waiting to be let onto site. As I write this, I am sat at my desk, with several tabs open on my computer. Over half of my time as a Technician was during last winter, so my transition into an engineering position is warmly welcomed… Quite literally!
So what are the direct benefits of this career path?
As a Technician spending time managing sites, I have found managing my own projects a lot easier, thanks to the organisational skills I learnt during my time in field. Simple things, like the need to manage your day to day responsibilities, sometimes across multiple sites, have really helped the day-to-day planning required to make sure projects are in order and flow correctly; and the engineering skills and procedures learnt on site, have helped with understanding the initial stages of a project life cycle. Understanding how things happen and flow on site is vitally important when you finally come round to being the one preparing and writing the instructions for site works to commence.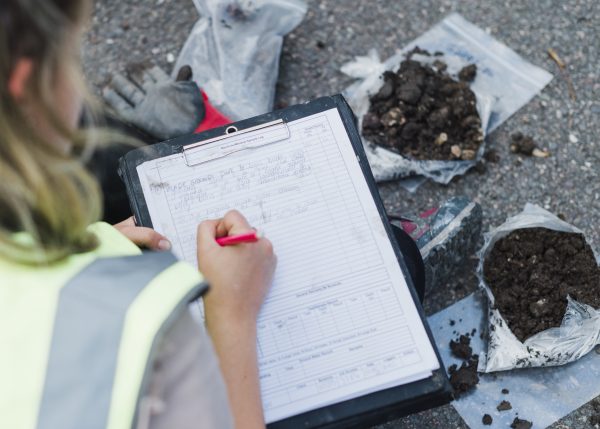 The technical and industry knowledge gained, combined with a practical understanding of site works and construction  industry practices and requirements have been crucial in unlocking my engineering judgement. The key skills I learnt on site, underpin the learning and development process of being an Engineer. This transition becomes much easier, because you can also visualise how the data has been collected and this allows you to think about potential factors that could impact site works being planned. This would only be possible with the site knowledge gained as a Technician and it enables me to avoid potentially problematic situations; or at least it helps to me to anticipate them and find ways to work around them. You can never fully predict what will be unearthed during a site investigation!
One of my favourite aspects of the transition to an engineering role, is watching the project come alive. When you see a project grow from the initial brief, from the background information you have uncovered during your desk research, to the subsequent site investigation plan arrived at following the desk study phase, right through to the final stages of sending your report out; gives you a huge sense of achievement and a profound feeling of accomplishment. I also relish the increased interaction with clients you get as the project engineer and the more in-depth information of the project you are provided with. The variety of site work that kept me motivated as a Technician – and made the last ten months really enjoyable – has been carried over into the engineering side of things, with lots of new challenges to overcome in the future. I am excited and look forward to the new lessons and experiences that will come my way during my engineering career and am grateful for solid foundation the Technician role has afforded me.
At Ground & Water we like the bigger picture. Our regularly updated blog highlights and discusses the industry's challenges and issues. It provides you with insights into innovation, how we are constantly changing and adapting to provide you class leading, cost effective, services and how through investing in our team, we are delivering on our promises. And it's a great read!