Reducing the flash flood risk
27th July 2021
Geoenvironmental • Geotechnical • Industry matters • Regulation
Over the last two weeks the examples in London of pluvial (surface water) flooding incidents, have been far too numerous. Ground & Water Director, Fran Williams explains why and how well informed drainage strategies will ensure your development doesn't add to the problem.
In early July, one month's worth of rain fell in one day (13th July) across West London. It caused flash flooding and properties in Kew, Kensington and Holland Park, including Queen guitarist, Brian May's basement and ground floor, were flooded. Videos were shown of water flowing down the steps of Sloane Square Tube Station. These are just a few examples of multiple flooding incidents that occurred across this part of London. Last weekend, the torrential rain storms hit East London and hospitals were asking patients to stay away, tube stations were flooded, geysers erupted from drain covers and the Blackwall Tunnel resembled the river it runs under.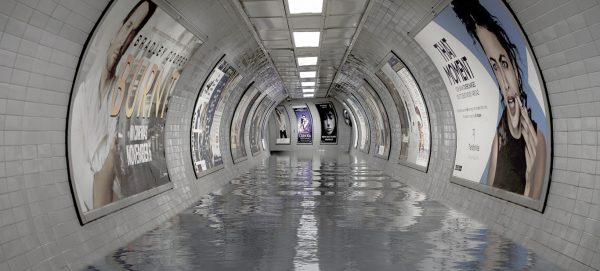 The government think-tank, London Councils, states on its website that: "London is at risk of flooding from several sources, including rivers (fluvial flooding), ground water and surface water. Of all these sources, surface water poses the greatest risk to properties in the city."
Surface water (or pluvial) flooding occurs when extremely heavy rainfall saturates drainage systems and the excess water can't be absorbed and evacuated.
Why?
Paved and built up urban surfaces prevent rainwater soaking into the ground, instead causing it to reach drains rapidly. Flooding occurs when this inundation overloads the systems. This could be due to there not being sufficient capacity in the system for such an inundation and/or the drains are in poor condition, not maintained appropriately or cannot absorb what they are supposed to.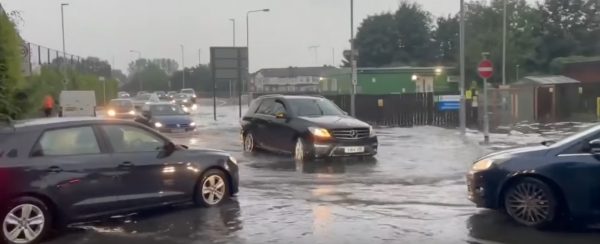 The maintenance of drainage systems across councils is not the subject of this blog; that is a subject for another time and specialism. However, ensuring new developments that occur in London, and more generally across the UK, can improve the situation is something that Ground & Water can help with. We do this through the provision of good ground investigation and flood risk information as part of project design teams, working with civil engineering practitioners.
How?
It is important to understand the flood risk appropriately and ensure the conclusions are adopted early in the design process.
On a potential development site in East Hampshire, the Environment Agency (EA) was concerned that flooding on the site was due to groundwater emergence and flow. However, a detailed review of British Geological Society (BGS) data, site visits and onsite site investigation data, showed that the flooding was more pluvial based, allowing for mitigation to be included in the drainage scheme design and the EA's objections were overcome.
On a potential development site in West Berkshire, concerns were raised regarding shallow groundwater impacting the drainage scheme proposed, which included soakaways. Ground & Water worked with the design team to provide groundwater data from the EA and other sources, to highlight a possible worst-case site-based groundwater level and the drainage design was adapted to suit.
It is important to get accurate SI information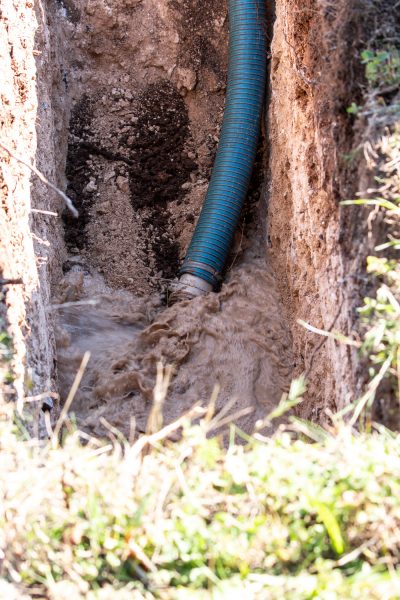 Ground & Water regularly undertakes fully compliant BRE365 onsite soakage testing. Fully compliant means the right size and depth of trench, filled the appropriate number of times, with the appropriate amount of water.
We can advise on the likely depth at which groundwater can be encountered, through use of BGS data or in-house borehole libraries. We have also used EA, or other sources of groundwater monitoring data to aid conceptual site models and further develop drainage designs. Ground & Water can also undertake the over winter groundwater monitoring required by some councils.
Where infiltration is limited and the size of soakaway required just does not fit, or where soakage just doesn't occur, we have often found alternative solutions, like borehole soakaways.
On a development scheme in Buckinghamshire, Ground & Water helped the client, by assessing the use of an existing onsite borehole for a borehole soakaway, as shallow soakage did not achieve sufficient infiltration given the space available. Through liaison with the original driller, undertaking a chalk dissolution risk assessment, and some modification of the original installation, the borehole was deemed suitable for use and solved the drainage design issue.
Drainage strategies fit for the future
Much of the drainage systems under London and many of our towns and cities are legacy and it is important that new developments do not place additional burden on them when abnormal rainfall threatens to overwhelm them, causing flash flooding, as seen in London this month. As demonstrated in the examples above, Ground & Water can work with your design team to ensure your drainage strategy is fit for whatever the 21st and 22nd Century weather may throw at it.
At Ground & Water we like the bigger picture. Our regularly updated blog highlights and discusses the industry's challenges and issues. It provides you with insights into innovation, how we are constantly changing and adapting to provide you class leading, cost effective, services and how through investing in our team, we are delivering on our promises. And it's a great read!