People make the difference
19th March 2020
Human resources • Industry matters
How your people make the difference and give you your competitive advantage. Plus growing new talent from seed – literally!
The use of the word 'immense' to describe the level of pride the team at Ground & Water feels about the workplace culture we enjoy, would not be an overstatement.
It's something we feel incredibly strongly about and something we work incredibly hard to maintain. We live by our values, every decision we make and action we take is dictated by them. Indeed, when we are looking to grow the Ground & Water family, the fundamental question we ask is 'will this person enjoy being part of our team and what will they contribute in terms of personality and enthusiasm?' The answer tells us all we need to know. We can help them build on their skills and qualifications and develop them professionally, but it is much harder to teach people… people skills.
Despite having doubled in size over the past 18 months, we have remained true to the team dynamic Fran and Dipalee envisaged 10 years ago when starting the business; that of collaboration, trust and friendship.
Your organisation's ethos is something that cannot be replicated, it cannot be stolen and it cannot be engineered. It's your secret ingredient and as such is the difference between a good company and a great one, much like adding that little something to your Spag Bol!
It not only attracts employees, but increases your likelihood of keeping those key players, ensuring they remain engaged and productive. The loyalty and trust they repay you with, is invaluable; especially when every player on your team comes in with a winning attitude and a drive to succeed. Achieve this and the results will follow.
At Ground & Water, our people make the difference and that sets us apart from our competitors and helps us to win our clients loyalty. When your team believes in what you are doing and shares your values, they will drive the culture. Instilling it in those that follow, allows for sustainability and durability. It doesn't matter how good your product is, if your team isn't delivering the message, no one is going to hear it!
Sowing Earth Science career seeds at University careers days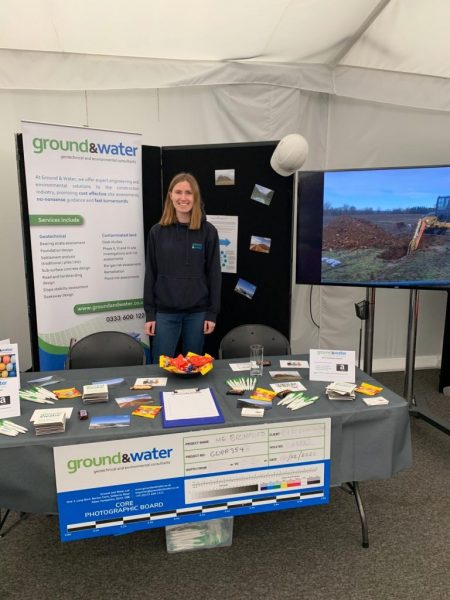 The tail end of last month saw Ground & Water attending careers fairs at both Southampton and Plymouth Universities.
Meeting with the next generation of geo-environmental and geotechnical engineers, there was a lot of interest in our stand… And it wasn't just for the sweets! Our seed infused business cards went down a treat too. This sustainable and environmentally focused approach was very much appreciated by the student community and appears to be a desirable factor when they are looking at career options.
It would seem that the Earth Sciences have taken a bit of a battering in recent years, in terms of student numbers. According to the Geological Society there were only 1,100 UK university enrollments onto geology programmes in 2018 – 2019, compared to 1,800 just four years previously. A sentiment confirmed by one tutor who regretfully, confirmed the current student intake was the lowest yet.
One suspected cause for this, is the limited exposure Earth Sciences receive in schools and the general workplace. The term 'geotechnical' is still a little bit of a mystery and in some circles can be met with a blank stare and a slow nod. There is a saving grace however. With new blood, comes new ideals and beliefs. Generations joining the workforce are more aware of the impact we are having on the planet and the increased need for a sustainable future. Careers in the environmental sector are receiving more exposure and numbers are increasing steadily. Thank goodness for that!
At Ground & Water we like the bigger picture. Our regularly updated blog highlights and discusses the industry's challenges and issues. It provides you with insights into innovation, how we are constantly changing and adapting to provide you class leading, cost effective, services and how through investing in our team, we are delivering on our promises. And it's a great read!