Is the construction industry finally going green?
7th March 2022
Geoenvironmental • Geotechnical • Industry matters
As you may be aware (certainly if you're a regular reader of our blog), 2022 is the Geological Society's Year of Sustainability. This has certainly helped Ground & Water, along with others in our industry, to sharpen focus when it comes to environmental efforts.
Minimising impact is a start. Having a net positive impact on our planet must surely be the end goal for everyone who has paid the slightest bit of attention to the Al Gores, the David Attenboroughs and the Greta Thunbergs of this world, over the last couple of decades.
While it's never going to happen overnight, progress is being made and we believe that continuous evaluation and improvement is the key to lasting change. We're very proud to have a subsection of the team here, who meet regularly to discuss and implement environmentally-friendly solutions. You may well have seen evidence of their impact on site, be it with electric plant and machinery, re-useable cable ties or plastic free sampling boxes being used during our geotechnical and geoenvironmental investigations.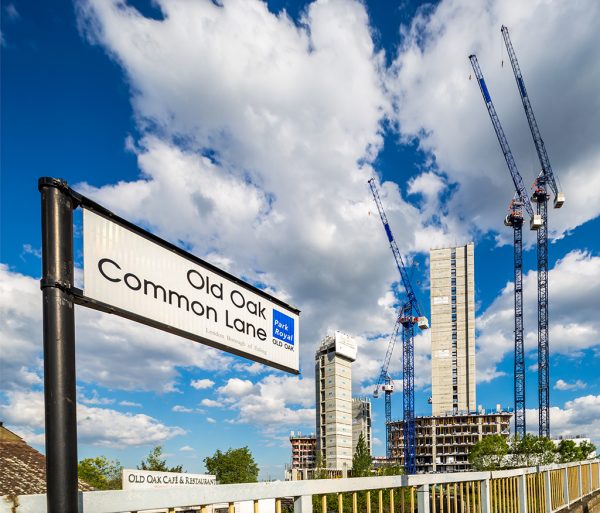 We can each, of course, only really impact our own small part of the planet, or the industry. This is why it is extremely heartening to see positive steps being made on huge projects, in the public eye. February saw the introduction of three fully electric crawler cranes on HS2 sites – two at the Old Oak Common Road Station site in West London and a third at the Canterbury Road vent shaft site. Between the three huge cranes, weighing over 500 tonnes between them, there is some serious lifting power on offer. Recent advances in technology mean that this sort of solution is becoming viable more and more frequently, which is surely something to celebrate.
HS2 air-quality lead Andrea Davidson told Construction News: "As a result of HS2's strict emissions requirements and our move towards diesel-free construction sites by 2029, our contractors and supply chain are constantly pushing the boundaries to find ways to cut carbon emissions. We're delighted that we're leading the industry by introducing the UK's first large, fully electric crawler cranes, making our HS2 sites cleaner and greener."
There is still work to do. These machines and many others may not pump out CO2 directly, but they are generally plugged into a diesel generator or charged from a national grid which is still fed by power mainly generated by burning fossil fuels or from other non-renewable sources. But that, too, is moving in the right direction, broadly speaking. We must all seek to improve our own practices and celebrate where we see others doing the same. When it comes to the planet, we are all in it together – as we must be.
At Ground & Water we like the bigger picture. Our regularly updated blog highlights and discusses the industry's challenges and issues. It provides you with insights into innovation, how we are constantly changing and adapting to provide you class leading, cost effective, services and how through investing in our team, we are delivering on our promises. And it's a great read!