Good employers understand anxiety
21st October 2020
Human resources
All of us will have experienced anxiety at least once in our lives. For some, these feelings of unease, worry or fear, can be so severe they are debilitating. Since the onset of the Coronavirus pandemic, this very real mental health issue has become prevalent, especially among people who have been denied normal social interaction. Following World Mental Health Day on 10 October, Ground & Water engineer, Natasha Kearl, began thinking about how she manages her anxiety, particularly in the current climate.
As one who sufferers from anxiety, I can attest to how much it can affect all aspects of your life. The effects anxiety can have on your life can be ruthless and with each sufferer experiencing different symptoms, with varying triggers, it is difficult to find any definitive solution for how to manage it. It has the ability to insert itself into every part of your life, so inevitably it has had an effect on my work life.
And I am not alone. Did you know that 1 in 6 people, experience a common mental health problem, every week of their lives? (Adult Psychiatric Morbidity Survey 2014) The Mental Health Foundation states that anxiety and depression are the most common problems, with around 1 in 10 people affected.
Before starting my job at Ground & Water, I had not really acknowledged how much of an impact my mental health had been having on my life. I realised quickly that I would need to find ways to manage it. I found simple tasks, such as making a phone call or attending site visits, were a trigger for my anxiety and my symptoms were extreme at the start. However, my senior team and colleagues have been very understanding and accommodating, by helping me to recognise my anxiety triggers and learn how to approach them in a way, I can cope with. It has certainly been a daunting task and I still have a long way to go, but I am so grateful to have employers who have given me the support I need.
An integral part of gaining freedom from anxiety, is understanding the triggers and finding ways to approach them, instead of panicking. I have found mindfulness apps, really help with this. As Headspace states: "Understanding anxiety is the first step in managing it". By knowing its volatile nature, we are able to gain a better sense of any triggers and how each individual's anxiety works. Meditative practices are proven to help ease some of the common symptoms of anxiety, while also helping to understand the triggers.
I have found that one of my main symptoms, is struggling to sleep. Gradually I have incorporated meditative practices into my nightly routine, to manage the thoughts that keep me awake. While I still have sleepless nights, I have found they are a lot less frequent thanks to meditation. One of my other main symptoms has been panic attacks, which are a lot harder to manage as they are so unpredictable. However, by attempting to manage my triggers, I have found that panic attacks are no longer a daily worry. A combination of a healthy diet, exercise and meditative practices have allowed me to take more control of my anxiety to live a more balanced life.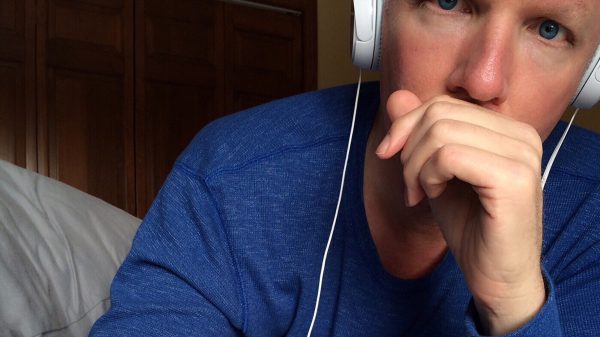 I have also found that with working from home and the Covid-19 restrictions outside work, finding a work/life balance has becoming increasingly more difficult… And I am not the only one! Now Covid-19 restrictions have made remote working mandatory for those that can, in many companies and localities, many people are suffering with the isolation. Forbes discusses how our daily interactions reinforce our sense of well-being and it is therefore vital that we keep these interactions going. Throughout the pandemic, Ground & Water has ensured regular 1-2-1s to help us stay connected and manage the isolation in addition to providing access to a wealth of information on the EveryMindMatters app. I am nervous about how more restrictions will impact my mental health, but I am determined to learn from the last time and ensure I make time to look after myself.
It is so important during these difficult times to stay connected with yourself and others. Find ways to invest in your own mental health, while making sure others are doing the same. It is not always obvious when someone is suffering. A few kind words go a long way.
At Ground & Water we like the bigger picture. Our regularly updated blog highlights and discusses the industry's challenges and issues. It provides you with insights into innovation, how we are constantly changing and adapting to provide you class leading, cost effective, services and how through investing in our team, we are delivering on our promises. And it's a great read!