Don't take ground gas for granted
8th July 2020
Geoenvironmental • Industry matters • Regulation
The way the industry risk assesses ground gas needs more consideration
Ground gas risk assessment has been an integral part of the construction industry for the past few decades with guidance largely remaining unchanged over the past 20 years.
However the CL:AIRE pragmatic approach (RB17), released in 2012, does contain some notable changes. Available ground gas risk assessment is dominated by carbon dioxide and methane, however, remediation from other gases (radon, carbon monoxide and hydrogen sulphide) is common on building sites. The world is undergoing a climate emergency and the use of plastics, that will remain in the environment long after our lifetime, needs to be reviewed. Without an adequate risk assessment, the use of ground gas membranes within new buildings, runs the risk of producing and using unnecessary plastics, as well as additional costs to the construction of buildings. Ultimately, human health and the explosive risk to buildings needs to take priority, however, unnecessary use of plastics that can be avoided through a more robust risk assessment needs to prevail. An avenue Ground and Water is keen to explore.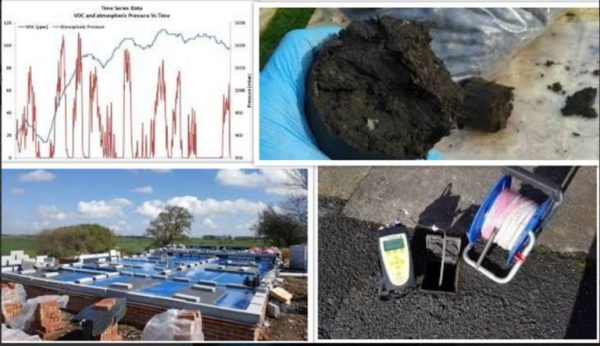 Currently within the industry, many risk assessors will consider only ground gas monitoring results, with little, or no, consideration given to other equally important data obtained during phase I and phase II investigations. In addition, ground gas risk assessment runs the risk of becoming a standard output, rather than engineered consideration. A trap the team at Ground and Water avoids.
The increasing understanding of ground gases and the development of new methods of risk assessment, coupled with the increasing availability of continuous ground gas monitoring, has the potential to change the way gas risk assessment is undertaken.
In 2020, the Society or Brownfield Risk Assessment (SoBRA), set up their sixth sub-group, Ground Gas, made up of members from multiple organisations, covering different aspects of the industry (practitioners, existing experts, local authorities) with the intention of shaping the future of ground gas risk assessment, whilst encouraging 'good practice' in the practical applications of risk assessment to support decisions regarding the appropriate management of land contamination. The principal purpose of the group is:
To support technical excellence in the assessment, estimation and evaluation of risks associated with ground gas
To encourage best practice by delivering practical advice to support decisions regarding the appropriate management of ground gas risks
To develop guidance
And to periodically represent SoBRA at conferences to share knowledge.
Following the initial discussions as a group and subject to the SoBRA executive committee, numerous initial outputs were discussed in detail and put forward. These include:
Providing a toolbox of guidance throughout the industry that indicates the pros and cons of different approaches and any limitations that may be attached to it
Providing an advice sheet on the generation of a conceptual site model for ground gases, which can be used as support for the pragmatic approach as well as providing greater understanding of where monitoring should be undertaken
Providing clarification on the existing guidance that is widely misunderstood
Provide early career advice in order to establish the next wave of risk assessors with good practice
Providing guidance on risk assessment for less common ground gases (carbon monoxide and hydrogen sulphide).
SoBRA registered and accredited risk assessors are those that have undergone peer scrutiny and proven themselves as a competent risk assessor. To increase the quality of risk assessments within the industry, using a SoBRA registered or accredited risk assessor for ground gas risk assessments should be considered by all developers. Ground and Water  can provide such re-assurance.
For more information contact Alec Ovens
Geotechnical and Geo-environmental Engineer
SoBRA Registered Risk Assessor
At Ground & Water we like the bigger picture. Our regularly updated blog highlights and discusses the industry's challenges and issues. It provides you with insights into innovation, how we are constantly changing and adapting to provide you class leading, cost effective, services and how through investing in our team, we are delivering on our promises. And it's a great read!