Business coaching – What's it all about?
28th October 2020
Human resources • News
Mention that phrase, 'business coaching' and for many the shutters come down. Thinking shifts to: "Who me? Oh really… I'm great at what I do!" Most visualise some cheesy motivational speaker, or emotions run deep from a previous experience, where weaknesses might have been exposed. Several say: "I'm simply so busy how could this possibly help me? We're successful already and what do they know about our industry!" Or perhaps underneath, people are really thinking: "Do I really want to be held to account?"
Ground & Water directors, Dipalee Jukes and Fran Williams, realised that if they were to grow their business and make their company the best it could be, they would need to learn new business related skills sets. While highly technically proficient, they took the courageous step, to allow themselves to hear the truth about how they were doing as business leaders. Both were committed to working hard to improve both the health of the company and themselves, but this meant parking preconceptions and being willing to be held to account by a business coach.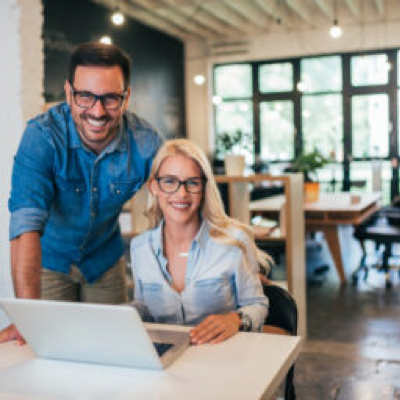 Andrew Garland is that business growth specialist and is a senior partner at Action Coach business coaching. He has been working with Fran and Dipalee for the last two years. He says: "In reality coaching is probably the single greatest investment you could make be it; career, professional or company. A simple analogy is sports coaching. This is something very visible and fundamental to success in modern sport. Coaching is about helping a person, team, company find that clarity of purpose, to overcome blockages to growth and performance, taking control and more importantly gaining a greater awareness of self and what you want from life.
"Coaching is about discovery and learning through careful guidance. We all see ourselves as coaches to a greater or lesser extent. The challenge for all those coaches out there is… When does one stop telling and begin asking? Leadership is all about capturing the most from our teams and team members. Simply telling will create dependency. If one is truly interested in maximising the most potential from one's team and company; stop telling, start asking and then shut up and listen!

"The modern reality of learning is… Most of us stop learning and this is reflected in the glass ceilings we come up against. Typically, our businesses are a reflection of ourselves and our current level of business knowledge. Of course, one may have 'been in business for 20 years', which in itself is an achievement, but what does that actually mean? 20 years repeating what you have done year in, year out, within your specialist field? The business of business is not necessarily what we know best. We are specialists in what we know, what we have learned, what our experiences have taught us. Engineers know engineering, architects know architecture, solicitors are great at certain aspects of the law and plumbers know how to fix taps and install central heating systems.
"Imagine combining one's technical knowhow, with expertise in business.  Forming a relationship with a business coach should bring that partnership together. A great business coach will take you through the process of learning, about yourself and through all the aspects of business to the point, you are no longer reliant upon others to build and grow your business. What about that horrible word accountability? Well it will become your friend and one to others.
"Don't be fooled with text book coaches, or those too ready to give advice. If someone looks cheesy, they probably are.  A good business coach will take the time to understand you and your business, will ask a lot of questions and will become that unrelenting friend that will tell you how it is, not what you want to hear and help you chart out your personal and business plan. A true business coach cares about what they do, but more importantly cares about your development and success."
At Ground & Water we like the bigger picture. Our regularly updated blog highlights and discusses the industry's challenges and issues. It provides you with insights into innovation, how we are constantly changing and adapting to provide you class leading, cost effective, services and how through investing in our team, we are delivering on our promises. And it's a great read!