Anna engineers her future
8th September 2020
Geoenvironmental • Geotechnical • Human resources
New friends, new beginnings, new goals and challenges, are just a few of the thoughts and hopes that consume young people starting a new job. Ground and Water's newest hire, Anna Smaje, reflects on her big leap into the world of work as an graduate engineer.
For many hopeful graduates, such as myself, starting a career in geotechnical and geoenvironmental engineering was a goal for much of my final year at university. My main interest within the industry is land contamination and mitigation, which is one of the factors that really drew me towards Ground and Water… Alongside, the immediate sense of care and fraternity, I got when I first made my approach and met a couple of the team members.
The prospect of leaving university and finally starting my career in a new and relatively young company, was daunting to begin with. The transition of leaving the student life behind and becoming a member of the working community is an exciting chapter to open, but in reality, a challenging one too.
The first day at Ground and Water started with a warm welcome, with many of the team members present – albeit some virtually – to welcome me upon arrival. When you first see that you now have your own desk to peacefully sit at, rather than having to hunt for hours in the university library was a very exciting new prospect. Throughout my first week, the transition into full time work, rather than full-time education, was helped massively by my mentor who answered many of my curious questions… And there were a lot!
Some of my first activities as a graduate engineer, involved watching some of the experienced engineers logging in the barn at the office. Watching them in action looking at fresh samples was extremely interesting, as this forms the basis of many of the reports that they send to clients. Seeing this process, meant that I had some idea of how the engineering side of the workflows begin.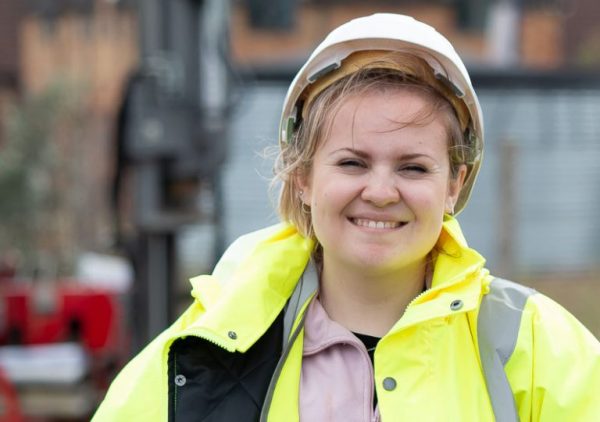 During the first week, I really welcomed the opportunity to actually get onto site. As many geology students will understand, there is much discussion about drilling rigs and looking at core samples. And my first site visit was doing just that, in central London. Watching a cable percussion drilling rig in action, was for me was one of my highlights. Seeing the way, the site work is conducted and the studying the samples as they came to the surface excited the geologist within me. I was finally getting to see the basis of what I have been studying the past three years. At Ground and Water, graduate engineers fulfil the role of site technician for their first six months. This means working on site on an almost daily basis, gaining a hands-on understanding of all the testing and sampling procedures across a multitude of site and ground types. Now three months into my role, this has been a great way to learn and work at the same time and I am really excited about what the future holds for me, as I progress towards a fully-fledged engineering position.
At Ground & Water we like the bigger picture. Our regularly updated blog highlights and discusses the industry's challenges and issues. It provides you with insights into innovation, how we are constantly changing and adapting to provide you class leading, cost effective, services and how through investing in our team, we are delivering on our promises. And it's a great read!